Exploring Ideas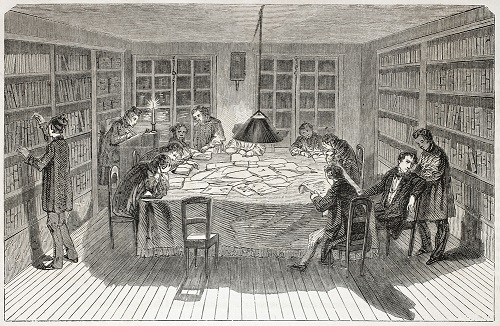 Liberty Matters Online Forum | Quotations about Liberty and Power | Reading Lists | Best of the OLL | Images of Liberty | Selected Readings from the Collection | Forgotten Gems of Liberty
The purpose of the Online Library of Liberty is to promote interest in and understanding of the ideal of a society of free and responsible individuals. In particular, we are concerned with ideas about individual liberty, limited constitutional government, free markets, and peace. The following is a list of resources to help the reader explore some of these important concepts and ideas:
On this page below:
Elsewhere in this site:
More Information about Exploring Ideas
Liberty Matters online Discussion Forum: is where we invite scholars to discuss in depth a key text or author in an exchange of essays and responses which takes place over an entire month. Recent discussion have been on "Bastiat and Political Economy" (July 2013), "James Buchanan: An Assessment" (March, 2013), and Eric Mack on "John Locke on Property" (January 2013).
Quotations about Liberty and Power: a collection of over 400 quotations drawn from scores of books in the OLL collection which are organized by theme, such as Free Trade, Money & Banking, Property Rights, and Socialism & Interventionism.
Reading Lists: have been prepared on key topics by Liberty Fund staff and friends on key topics. The readings have been selected from books and chapters of books which are online at the OLL and often include some commentary or annotation about their significance. See Lists on topics such as "Authority and Liberty in the Writings of Robert Filmer and Thomas Hobbes" and "The Federalist Papers: America's Political Classic".
The OLL Reader: An Anthology of the Best of the Online Library of Liberty: is a collection of chapter-length extracts from the OLL collection which are arranged thematically, such as The Basic Principles, Economic Liberty, and Visions of the Future.
Images of Liberty: Works of art can also be ways in which political, economic, and philosophical ideas can be expressed. See our collection of "illustrated essays" on various themes such as Adam Smith and J.B. Say on the Division of Labour, The Gold Standard vs. Fiat Paper Money, Eugène Delacroix on Press Censorship during the Restoration (1814-1822), and Mises on Rationing and Price Controls in WW2.
Selected Chapters from the Collection: this is a collection of chapters and other extracts organized by subject areas and topics. Here one can read some of the best material written by our authors on Economics, Political Thought, Music, and Literature.
Forgotten Gems: is a collection of writings which were ahead of their time, where authors explored for the first time some of the ideas we now associate with the classical liberal and free market traditions. Examples include "Blackstone on the Absolute Rights of Individuals (1753)"; Condorcet, 10th Epoch. Future Progress of Man (1796); Constant, The Liberty of Ancients Compared with that of Moderns (1819); Hume, The Progress of English Liberty (1778).
Historical Debates: We have organized some of our material into debates in which important issues such as the divine right of Kings, the balance between liberty and equality, and the impact of population growth were vigorously debated.