Hugo Grotius, The Rights of War and Peace (1625)
The Enhanced Edition of Hugo Grotius, The Rights of War and Peace (1625)
This "Enhanced Edition" of Grotius's famous work on the law of war contains a number of supplementary essays and a selection of chapters from Grotius's book which are designed to help the reader get a better understanding of this important political and legal theorist. The supplementary material includes two introductions to different editions of his book, a biographical essay by his 18th century translator Barbeyrac, and the "Liberty Matters" online discussion forum on Grotius's views. This is followed by Grotius's "Preliminary Discourse" on natural law and a selection of chapters from the book which deal with the nature of war, when it is just to go to war, when it is unjust to go war, and how war might be moderated once it has been declared.
Ebook versions of this title in PDF, epub, and Kindle formats can be downloaded from here.
See other Classics of Liberty: The Enhanced Editions in the OLL collection in HTML or ebook formats </titles/2639>.
Introduction
Hugo Grotius's Rights of War and Peace is a classic of modern public international law which lays the foundation for a universal code of law and which strongly defends the rights of individual agents – states as well as private persons – to use their power to secure themselves and their property. Wrtitten while the Thirty Years War was being fought, it is a thinly veiled plea for moderation in the behaviour of the states which were involved in the conflict. Grotius does this in several way. One is to provide a detailed description of historical practice in order to show how states, monarchs, and military leaders had conducted war in the past, and how some rules had arisen to regulate (or not as the case may be) behaviour in wartime. He combines this with his own theory of natural law and natural rights (as set out in the "Prolegomena" or "Preliminary Discourse" which defines how wars should be fought.
Liberty Fund's edition is based upon that of the eighteenth-century French editor Jean Barbeyrac and also includes the "Prolegomena" to the first edition of Rights of War and Peace (1625); and an Introduction by the historian of political thought Richard Tuck.
This ebook anthology does not contain the entire text of the Rights of War and Peace as it is a very long 3 volume work. It is comprises some Supplemantary Material such as essays, biographies, introductions, and discssions of his work, along with several extracts from the book. These essays discuss Grotius's view about the laws governing war and how it might be limited in practice. It is hoped that the combination of the two will assist those who wish to deepen their knowledge of this important political and legal theorist.
Grotius' "Prolegomena" or "Preliminary Discourse" is a concise summary of his thinking about natural law which he inserted at the beginning of his much longer treatise on the laws of war and peace. As the scholars who participated in the "Liberty Matters" online discussion forum (included in this anthology) noted there is a tension between what Grotius the legal historian says about the actual historical practice of the laws which have governed declaring and waging wars and what the principles of natural law and natural rights say should be the practice.
The selection of chapters from the book deal with the nature of war, when it is just to go to war, when it is unjust to go war, and how war might be moderated once it has been declared. They come from Liberty Fund's edition The Rights of War and Peace, edited and with an Introduction by Richard Tuck, from the Edition by Jean Barbeyrac (Indianapolis: Liberty Fund, 2005). 3 vols. </titles/1877>. The sources of the other material is indicated below.
The footnoting and pagination of the book is rather complex. The typesetters preserved the original pagination of the 1738 English translation and we have retained the pagination of the LF edition as well. There are three layers of footnotes - Grotius's, Barbeyrac (the French transator and editor), and the LF editor's. There is also extensive use made of marginalia. Given the restrictions of the ebook format we have done our best to keep as much of this apparatus as possible. However, please refer to the online or the print editions if this becomes confusing.
Contents
This enhanced book includes the following material:
About the Author: Hugo Grotius (1583 - 1645)↩
Nationality: Dutch
Historical Period: The Early Modern Period
Hugo Grotius (1583-1645) was a Dutch scholar and jurist whose legal masterpiece, De Jure Belli ac Pacis (On the law of war and peace) (1625), contributed significantly to the formation of international law as a distinct discipline. In addition to that work, Grotius wrote a number of literary pieces of lasting merit, including Sacra (a collection of Latin poems) and the drama Christus Patiens. Like Erasmus, Grotius sought to end the religious schism and urged the papacy to reconcile with the Protestant faiths.
To read more by and about Grotius go to his page in the Online Library of Liberty.
Groups:
17th Century Natural Rights Theorists </groups/39>
Topic: The Laws of War </groups/62>
Subject Area:
Liberty Fund Collection: Natural Law and Enlightenment Series </groups/59>
About the Text↩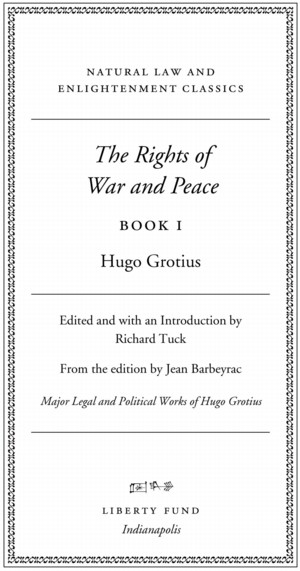 Edition Used
Hugo Grotius, The Rights of War and Peace, edited and with an Introduction by Richard Tuck, from the Edition by Jean Barbeyrac (Indianapolis: Liberty Fund, 2005). 3 vols. </titles/1877>.
About this Title
Grotius's Rights of War and Peace is a classic of modern public international law which lays the foundation for a universal code of law and which strongly defends the rights of individual agents – states as well as private persons – to use their power to secure themselves and their property. This edition is based upon that of the eighteenth-century French editor Jean Barbeyrac and also includes the Prolegomena to the first edition of Rights of War and Peace (1625); this document has never before been translated into English and adds new dimensions to the great work.
Copyright Information
The copyright to this edition, in both print and electronic forms, is held by Liberty Fund, Inc.
Fair Use Statement
This material is put online to further the educational goals of Liberty Fund, Inc. Unless otherwise stated in the Copyright Information section above, this material may be used freely for educational and academic purposes. It may not be used in any way for profit.
Supplementary Material↩
1. Richard Tuck, "Introduction"↩
Source
Richard Tuck, "Introduction" to vol. 1 of Hugo Grotius, The Rights of War and Peace, edited and with an Introduction by Richard Tuck, from the Edition by Jean Barbeyrac (Indianapolis: Liberty Fund, 2005). </titles/1425#lf1032-01_head_001>.
Endnotes
2. Jean de Barbeyrac, "The Life of Hugo Grotius" (1738)↩
Source
Jean de Barbeyrac, "The Life of Hugo Grotius" (1738) in volume 1 of Hugo Grotius, The Rights of War and Peace, edited and with an Introduction by Richard Tuck, from the Edition by Jean Barbeyrac (Indianapolis: Liberty Fund, 2005). </titles/1425#lf1032-01_head_008>.
3. David J. Hill, "Introduction" (1901)↩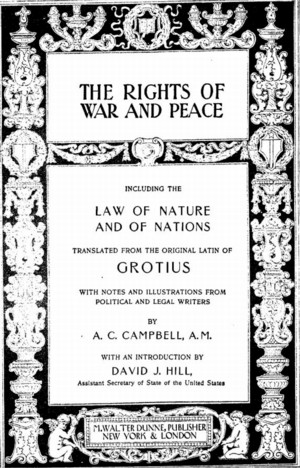 Source
David J. Hill, "Introduction" to Hugo Grotius, The Rights of War and Peace, including the Law of Nature and of Nations, translated from the Original Latin of Grotius, with Notes and Illustrations from Political and Legal Writers, by A.C. Campbell, A.M. with an Introduction by David J. Hill (New York: M. Walter Dunne, 1901). </titles/553#lf0138_head_003>
INTRODUCTION BY DAVID J. HILL

The Work and Influence of Hugo Grotius.
The claims of the great work of Grotius, "De Jure Belli ac Pacis," to be included in a list of Universal Classics, do not rest upon the felicity of style usually expected in a classic composition. His work is marked by frequent rhetorical deformities, tedious and involved forms of reasoning, and perplexing obscurities of phraseology which prevent its acceptance as an example of elegant writing. Notwithstanding these external defects, it is, nevertheless, one of the few notable works of genius which, among the labors of centuries, stand forth as illustrations of human progress and constitute the precious heritage of the human race.
If it is not literature in the technical sense, the masterpiece of Grotius is something higher and nobler,—a triumph of intelligence over irrational impulses and barbarous propensities. Its publication marks an era in the history of nations, for out of the chaos of lawless and unreasoning strife it created a system of illuminating principles to light the way of sovereigns and peoples in the paths of peace and general concord.
I. The Reign of War.
The idea of peaceful equity among nations, now accepted as a human ideal, though still far from realization, was for ages a difficult, if not an impossible, conception. All experience spoke against it, for war was the most familiar phenomenon of history.
Among the Greek city-states, a few temporary leagues and federations were attempted, but so feeble were the bonds of peace, so explosive were the passions which led to war, that even among the highly civilized Hellenic peoples, community of race, language, and religion was powerless to create a Greek nation. It was reserved for the military genius of Alexander the Great, at last, by irresistible conquest, to bring the Greek Empire into being, to be destroyed in turn by superior force.
The Roman Empire almost achieved the complete political unity of Europe, and bound parts of three continents under one rule, but the corruption of the military power which held it together led to its inevitable dismemberment.
After the conflicts of the barbaric kingdoms which followed the dissolution of the Western Empire were ended by the predominance of the Frankish monarchy, the world believed that the Pax Roman was to be restored in Europe by the hand of Charles the Great; but the disruptive forces were destined to prevail once more, and the Holy Roman Empire never succeeded in reviving the power of ancient Rome. And thus the dream of a universal monarchy, of a central authority able to preside over kings and princes, adjusting their difficulties, and preserving the peace between them, was at last proved futile.
In each of the great national monarchies that had already risen or were still rising on the ruins of imperial dominion, particularly in France, England, Holland, and the States of Germany, a continuous internal conflict over questions of religion complicated the bitterness and destructiveness of foreign wars until Europe was reorganized by the Peace of Westphalia, in 1648.
It was in the midst of these wars that Grotius was born. He saw his own country rising from a baptism of blood and all Europe rent and torn by the awful struggle of the Thirty Years' War, in the midst of which his great work was written and to whose conclusion it served as a guide and inspiration. The Empire, dismembered, had been reduced to almost complete impotence, the Church had been disrupted, and no international authority was anywhere visible. Amid the general wreck of institutions Grotius sought for light and guidance in great principles. Looking about him at the general havoc which war had made, the nations hostile, the faith of ages shattered, the passions of men destroying the commonwealths which nourished them, he saw that Europe possessed but one common bond, one vestige of its former unity,—the human mind. To this he made appeal and upon its deepest convictions he sought to plant the Law of Nations.
II. The Predecessors of Grotius.
It is historically accurate to say, that, until formulated by Grotius, Europe possessed no system of international law. Others had preceded him in touching upon certain aspects of the rights and duties of nations, but none had produced a system comparable to his.
The earliest attempt to formulate recognized international customs was the formation of the early maritime codes, rendered necessary by the expansion of mediæval commerce from the end of the eleventh to the end of the sixteenth century, such as the "Jugemens d' Oléron," adopted by the merchants of France, England, and Spain, and reissued under other names for the merchants of The Netherlands and the Baltic. "The Consolato del Mare," a more elaborate compilation, was made, apparently at Barcelona, about the middle of the fourteenth century, and accepted generally by the traders of the chief maritime powers. It was in the cradle of commerce, therefore, that international law awoke to consciousness.
As the Church was often intrusted with the task of pacification, it is but natural to look among her representatives for the earliest writers on the laws of international relations. It is, in fact, among the theological moralists that we find the first students of this subject. As early as 1564, a Spanish theologian, Vasquez, conceived of a group of free states with reciprocal rights regulated by jus naturale et gentium, without regard to a world-power, either imperial or ecclesiastical. In 1612, Saurez pointed out that a kind of customary law had arisen from the usages of nations, and distinctly described a society of interdependent states bound by fundamental principles of justice.
At the close of the fifteenth and the beginning of the sixteenth centuries, a series of circumstances arose necessitating the extension of jurisprudence beyond its ancient boundaries, and thus tending to produce a group of international jurists. Among the juristic writers of this time are Balthazar Ayala, a Spanish jurisconsult, who died in 1584, having written in a historico-judicial spirit on the subject of war in his "De Jure et Officiis Belli"; Conrad Brunus, a German Jurist, who wrote of the rights and duties of ambassadors in his "De Legationibus," published in 1548; and pre-eminent above all, Albericus Gentilis, an Italian professor of jurisprudence and lecturer at Oxford, a writer of force and originality, who published his "De Legationibus" in 1583 and his "De Jure Belli" in 1589.
III. The Life and Personality of Grotius.
HUGO GROTIUS, to use the Latin form of his name by which he is best known, or Hugo de Groot as he is called in Holland, descended from a race of scholars and magistrates, was born at Delft, on April 10th, 1583. His family history has been related with much detail by De Burigny, in his "Vic de Grotius," published in French at Amsterdam in 1754; and by Vorsterman van Oyen, in his "Hugo de Groot en Zijn Gesclacht," a complete genealogy in Dutch, published at Amsterdam in 1883, which gives the descendants of Grotius down to the present generation. His origin is traced from a Frenchgentleman, Jean Cornets, who took up his residence in The Netherlands in 1402. His descendant, Cornelius Cornets, married the daughter of a burgomaster of Delft on condition that the future children of this marriage should bear the name of their mother's family, in order to perpetuate the distinction which it had achieved. The maternal name imposed by Cornelius Cornets's Dutch father-in-law, Dirk van Kraayenburg de Groot, was de Groot, meaning the Great, and is said to have been bestowed for signal services rendered to his country by the first who had borne it four hundred years before. From this marriage sprung a Hugo de Groot, distinguished for his learning in Greek, Latin, and Hebrew and five times burgomaster of his native city. His eldest son, Cornelius, was a noted linguist and mathematician who studied law in France and received high office in his own country, afterward becoming a professor of law and many times rector of the University of Leyden. Another son, John de Groot, the father of Hugo Grotius, studied there under the famous Lipsius, who speaks of him with the highest commendation. Four times burgomaster of Delft, John de Groot became curator of the University of Leyden, a position which he filled with great dignity and honor.
In his earliest years the young Hugo gave evidence of marked and varied ability. At eight he wrote Latin verses which betrayed poetic talent; at twelve he entered the University where he became a pupil of that prince of scholars, Joseph Scaliger, who directed his studies; and at fifteen he defended "with the greatest applause" Latin theses in philosophy and jurisprudence. His fame as a prodigy of diversified learning spread far and wide, and great scholars declared they had never seen his equal.
Grotius had won celebrity even in foreign lands when, in 1600, at the age of seventeen, he was admitted to the bar. The youthful prodigy had already accompanied the Grand Pensionary, John of Oldenbarneveld on a special embassy to France, where he was presented to Henry IV., who bestowed upon him his portrait together with a gold chain, and graciously called him "The Miracle of Holland." At Orleans he was made a Doctor of Laws.
Married in 1609 to Marie van Reigersberg, whose devotion was worthy of his deep affection, and loaded with public honors, having been named the official historian of the United Provinces and the advocate-general of two provinces, Holland and Zeeland, Grotius set his hand to a work entitled "Mare Librum," in which he defended the freedom of the sea and the maritime rights of his country against the arrogant pretensions of the Portuguese in suppressing the commerce of other nations in Eastern waters,—a treatise destined to become still more celebrated in the history of international law by Selden's reply, "Mare Clausum," written in 1635. Next, turning his attention to the history of The Netherlands, he devoted himself for a time to his "Annals of the War of Independence."
In 1613, Grotius added to his laurels as poet, jurist, and historian by entering the field of politics, and he was appointed Pensionary of Rotterdam upon the condition that he should continue in office during his own pleasure. It was during a visit to England upon a diplomatic mission in this same year that he met the great scholar Isaac Casaubon, who said in a letter to Daniel Heinsius: "I cannot say how happy I esteem myself in having seen so much of one so truly great as Grotius. A wonderful man! This I knew him to be before I had seen him; but the rare excellence of that divine genius no one can sufficiently feel who does not see his face and hear him speak. Probity is stamped on all his features."
Closely related by personal friendship as well as by his official duties to the Grand Pensionary, John of Oldenbarneveld, Grotius was destined to share with that unfortunate patriot the proscription and punishment which Maurice of Orange visited upon the two confederates in the defense of religious tolerance. Risking all as the apostles of peace, they were soon condemned to be its martyrs. Oldenbarneveld, having incurred the bitter hatred of the Stadtholder, was condemned to death by decapitation on May 12th, 1619. Grotius, less offensive to Maurice on account of his youth and his gracious personality, was sentenced six days later to perpetual imprisonment. On the 6th of June, 1619, he was incarcerated in the fortress of Loevestein.
Rigorously treated at first, his docility and resignation soon won the respect and affection of his keepers. Writing materials and books were in time accorded him, and finally, on condition that she would continue to share his captivity, he was granted the presence of his wife. The studious prisoner and his devoted companion completely disarmed all suspicion of an intention to escape, and the ponderous chest in which books came and went continued to bring periodic consolation to the mind of the busy scholar. A treatise on the truth of the Christian religion, a catechism for the use of his children, a digest of Dutch law, and other compositions served to occupy and alleviate the weary months of confinement, until one day when the time seemed opportune Madame Grotius secretly inclosed her husband in the great chest and it was borne away by two soldiers. Descending the stone steps of the prison the bearers remarked that the trunk was heavy enough to contain an Arminian, but Madame Grotius's jest on the heaviness of Arminian books smoothed over the suspicion, if one was really entertained, and the great jurist was sent in the chest safe to Gorcum, attended by a faithful domestic, where in the house of a friend the prisoner emerged without injury and in the guise of a stone mason hastened to Antwerp. From Antwerp he took refuge in France, where he arrived in April, 1621, and was joined by his faithful wife at Paris in the following October.
The bitterness of exile was now to be added to the miseries of imprisonment, for Grotius was not only excluded from The Netherlands, but in extreme poverty. His letters reveal his anguish of spirit at this period, but a generous Frenchman, Henri de Même, placed his country house at Balagni at his disposition, and there, supported by a small pension, which Louis XIII had graciously accorded him, though irregularly and tardily paid, Grotius commenced his great work, "De Jure Belli ac Pacis," in the summer of 1623.
Much speculation has been indulged in regarding the causes which led to the composition of this masterpiece, but a recent discovery has rendered all this superfluous, as well as the ascription of special merit to the Counselor Peyresc for suggesting the idea of the work. It is, indeed, to the pacific genious of Grotius more than to all other causes that the world owes the origin of his great work; for it sprang from his dominant thought, ever brooding on the horrors of war and the ways of peace, during more than twenty years, and never wholly satisfied till its full expression was completed.
In the winter of 1604, there had sprung out of his legal practice the idea of a treatise entitled "De Jure Praedae," fully written out, but never printed by its author. The manuscript remained unknown by all his biographers until it was brought to light and printed under the auspices of Professor Fruin at The Hague in 1868. This interesting document proves that not only the general conception but the entire plan and even the arrangement of the "De Jure Belli ac Pacis" were in the mind of Grotius when he was only twenty-one years of age. The difference between the earlier work and the later is chiefly one of detail and amplification, the difference which twenty years of reading, experience, meditation and maturity of faculty would inevitably create.
The curious may find in his letters the almost daily chronicle of his progress with his book to the time of its publication after excessive labors lasting more than a year. In March, 1625, the printing of the first edition, which had occupied four months, was completed and copies were sent to the fair at Frankfort. His honorarium as author consisted of two hundred copies, many of which he presented to his friends. From the sale of the remainder at a crown each, he was not able to reimburse his outlay. In the following August he wrote to his father and brother that if he had their approbation and that of a few friends, he would have no cause for complaint but would be satisfied. Louis XIII, to whom the work was dedicated, accepted the homage of the author and a handsomely bound copy, but failed to exercise the grace customary with monarchs by according a gratification. At Rome, the treatise was proscribed in the index in 1627. Almost penniless and suffering from his protracted toil, Grotius seemed destined to neglect and oblivion, yet from his exile he wrote to his brother: "It is not necessary to ask anything for me. If my country can do without me, I can do without her. The world is large enough…."
Invited to enter the service of France by Richelieu, Grotius would not accept the conditions which the Cardinal wished to impose,—such at least is the inevitable inference from his letters. His pension was not paid and his circumstances became so serious that one of his children had but a single coat. At length, pushed to the utmost extremity of want and instigated by his energetic wife, Grotius resolved to return to Holland. Driven from Rotterdam to Amsterdam, where he hoped to settle down as a lawyer, the States General twice ordered his arrest and named a price for his delivery to the authorities. The new Stadtholder, Frederick Henry, who, before succeeding his brother Maurice, had written kindly to Grotius after his escape from imprisonment, now approved his proscription. Abandoned by his prince as well as by his countrymen, Grotius once more turned his face toward exile and set out for Hamburg.
IV. The Work of Grotius.
It may be of interest at this point in the career of Grotius to describe briefly the character of the great work which was soon to win for him a new celebrity, and materially change his prospects in life.
The inspiration of his "De Jure Belli ac Pacis" was the love of peace, yet he was far from being one of those visionaries who totally condemn the use of armed force and proscribe all war as wrong and unnecessary. On the contrary, he seeks to discover when, how, and by whom war may be justly conducted.
His plan of treatment is as follows:—
In the First Book, he considers whether any war is just, which leads to the distinction between public and private war, and this in turn to a discussion of the nature and embodiment of sovereignty.
In the Second Book, the causes from which wars arise, the nature of property and personal rights which furnish their occasions, the obligations that pertain to ownership, the rule of royal succession, the rights secured by compacts, the force and interpretation of treaties, and kindred subjects are examined.
In the Third Book, the question is asked, "What is lawful war?" which prepares for the consideration of military conventions and the methods by which peace is to be secured.
From the authority of the Empire and the Church, no longer effectual as an international agency, Grotius appeals to Humanity as furnishing the true law of nations. Beginning with the idea that there is a kinship among men established by nature, he sees in this bond a community of rights. The society of nations, including as it does the whole human race, needs the recognition of rights as much as mere local communities. As nations are but larger aggregations of individuals, each with its own corporate coherence, the accidents of geographic boundary do not obliterate that human demand for justice which springs from the nature of man as a moral being. There is, therefore, as a fundamental bond of human societies, a Natural Law, which, when properly apprehended, is perceived to be the expression and dictate of right reason. It is thus upon the nature of man as a rational intelligence that Grotius founds his system of universal law.
As this law of human nature is universally binding wherever men exist, it cannot be set aside by the mere circumstances of time and place, whence it results that there is a law of war as well as a law of peace. As this law applies to the commencement of armed conflicts, war is never to be undertaken except to assert rights, and when undertaken is never to be carried on except within the limits of rights. It is true that in the conflict of arms laws must be silent, but only civil laws, which govern in times of peace. Those laws which are perpetual, which spring from the nature of man as man, and not from his particular civil relations, continue even during strife and constitute the laws of war. To deny these, or to disobey them, implies a repudiation of human nature itself and of the divine authority which has invested it with rights and obligations. To disavow the imperative character of these perpetual laws, is to revert to barbarism.
It is necessary, however to distinguish between Natural Law, that principle of justice which springs from man's rational nature, and Conventional Law, which results from his agreements and compacts. Natural Law remains ever the same, but institutions change. While the study of abstract justice, apart from all that has its origin in the will or consent of men, would enable us to create a complete system of jurisprudence, there is another source which must not be neglected, since men have established the sanctity of certain rules of conduct by solemn convention.
The Law of Nations does not consist, therefore, of a mere body of deductions derived from general principles of justice, for there is also a body of doctrine based upon consent; and it is this system of voluntarily recognized obligations which distinguishes international jurisprudence from mere ethical speculation or moral theory. There are customs of nations as well as a universally accepted law of nature, and it is in this growth of practically recognized rules of procedure that we trace the evolution of law international—jus inter gentes—as a body of positive jurisprudence.
It is evident that the mind of Grotius is continually struggling to establish a science upon this positive basis, and it is this which gives a distinctive character to his effort. The great writers of all ages are cited with a superfluous lavishness, not so much to support his claims by an aggregation of individual opinions— still less to display his erudition, as his critics have sometimes complained—as to give a historic catholicity to his doctrine by showing that the laws he is endeavoring to formulate have, in fact, been accepted in all times and by all men. For this purpose also, he makes abundant use of the great authorities on Roman Law, whose doctrines and formulas were certain to carry conviction to the minds of those whom he desired to convince.
It is needless, perhaps, to point out that the work of Grotius is not and could not be a work of permanent authority as a digest of international law. His own wise appreciation of the positive and historical element—the authority derived from custom—should exempt him from the pretense of absolute finality. It is the Book of Genesis only that he has given us, but it is his indefeasible distinction to have recorded the creation of order out of chaos in the great sphere of international relationship, justly entitling him to the honor accorded to him by the spontaneous consent of future times as the Father of International Jurisprudence.
It is not difficult after more than three centuries of thought and experience to point out the defects in his doctrine. If he justifies slavery, it is not without ingenuity; for, he argues, if a man may sell his labor, why not his liberty? and if the conqueror may impose his will upon the property of the vanquished, why not also upon his person? If he identifies sovereignty with supreme power without any adequate conception of its ethical basis, he is at least as advanced in his thinking as the conceptions of his time, which had not yet grasped the idea of the state as a moral organism. If he has no adequate notion of neutrality, believing it to be the duty of a nation to enlist its energies for what it deems the right side, rather than to disavow all responsibility for actions foreign to its own interests, he is at least supported in this by the opinion of the multitude even at the present time; and even among jurists the modern conception of neutrality is hardly a century old. If the new schools of jurisprudence make light of Natural Law as a foundation of public and private rights, it is not certain that Grotius may not yet be vindicated as representing a doctrine at least as clear as any other which has been substituted for it. But, finally, to all these criticisms it may be answered, that no great thinker can be justly estimated except in relation to his predecessors and contemporaries. Measured by these, Grotius stands alone among the jurists of his century for originality of thought and power of exposition.
V. The Influence of Grotius's Work.
It was during his sojourn in Hamburg in 1633, eight years after the publication of his "De Jure," and while he was still suffering from painful pecuniary embarrassment, that Europe suddenly awoke to a sense of his importance; and, almost at one time, Poland, Denmark, Spain, England, and Sweden all extended friendly invitations urging him to enter into their public service. His fame as a jurist had become international and, rudely repelled by his native Holland, he became the center of European interest. Gustavus Adolphus had placed the work of Grotius along side his Bible under his soldier's pillow, as he prosecuted his campaigns in the Thirty Years' War. The first edition of that work, written in Latin, the cosmopolitan language of learned Europe, had been quickly exhausted and widely scattered. Another had soon been called for at Paris, but the death of Buon, the publisher, created obstacles to its appearance. A second edition had appeared at Frankfort in 1626, another at Amsterdam in 1631, and still another with notes by the author in 1632. The book had aroused the thought of kings as well as of scholars, and in the circles of high influence everywhere in Europe the name of Grotius had become well known. His book had excited the most opposite sentiments and awakened the most contradictory judgments, but among lawyers and statesmen its reception was from the first generally marked by admiration. In spite of exile, poverty, and misfortune, Grotius had become a European celebrity and was about to enter into the reward of his labors. He had created a code for war and a programme of peace, and henceforth no statesman could afford to neglect him.
Gustavus Adolphus, the king of Sweden, before his death on the battlefield of Lützen, had commended Grotius to his great Chancellor, Oxenstiern. By the death of Gustavus the Chancellor had, in 1633, recently come into the regency of the kingdom at a critical moment when a retreat from the bitter contest with the Empire seemed to be foredoomed unless prevented by the support and friendship of France. Recalling the commendation of the late king, Oxenstiern sought and found in Grotius an ambassador of Sweden to negotiate a new Franco-Swedish alliance. Accepting this appointment in 1634, Grotius arrived at Paris on his diplomatic mission on March 2d, 1635.
Richelieu, having failed to draw the great jurist into the orbit of his influence as a satellite, resented his appearance in a character so influential and honorable as that of ambassador of Sweden, and Grotius made little progress in his negotiation. Preoccupied with literature, he took more interest in the composition of a sacred tragedy on "The Flight into Egypt" than in reminding France of the existing treaty of Heilbronn or consolidating the new Franco-Swedish alliance. Where Grotius the theorist failed, Oxenstiern, the practical statesman, by a few dexterous strokes of diplomacy during a brief visit to Paris, easily succeeded; and the ambassador's mission was simplified to the rôle of a mere observer and reporter of occurrences.
By taste, nature, and training, Grotius was a jurist and not a diplomatist, and he soon realized that the two vocations, if not diametrically opposed, are at least separated from each other by a vast interval. His diplomatic correspondence betrays the keen observer and the conscientious moralist rather than the accomplished negotiator. Among the observations recorded in his dispatches, one may be quoted as an example of his penetration and his humor. Speaking of the Dauphin, the future Louis XIV, he says: "His frightful and precocious avidity is a bad omen for neighboring peoples; for he is at present on his ninth nurse, whom he is rending and murdering as he has the others!"
It is painful to behold the great father of international jurisprudence descending in his dispatches to petty details of precedence and alienating from himself the sympathies of his colleagues by ridiculous ceremonial pathies of his colleagues by ridiculous ceremonial pretensions. He would no longer visit Mazarin, because the Cardinal insisted on calling him Eminence instead of Excellence; Grotius considering this distinction of terms a slight upon his rank as ambassador. So persistent was he in these follies and so rancorous were the feuds that the apostle of peace elicited that, in December, 1636, less than two years after his arrival at Paris, he advised Sweden to send to France a simple Chargé d'Affaires, instead of an ambassador, in order to restore diplomatic relations.
His quarrels concerning precedence, which rendered him an object of ridicule at the French Court, were not the only griefs of the ambassador of Sweden. Inadequately recompensed, he was obliged to wait two years for his salary and finally, being reduced to a condition in which he could no longer maintain existence otherwise, he was compelled to demand of the royal treasury of France a part of the subsidies promised to the army of his adopted country. Weary of his importunities, the France government repeatedly requested his recall. Disgusted with his mission, Grotius at last abandoned the duties of his office to the intriguing adventurer, Cerisante, who was sent to aid him, and buried himself in his books until his return to Sweden at his own request in 1645.
Queen Christina of Sweden, a patroness of scholars, desirous of aiding Grotius and of retaining him in the service of her kingdom, made many offers and promises, but their execution being deferred, he became impatient of his lot, refused a position as counselor of state, and resolved to leave the country. His plan to abandon Stockholm secretly was prevented by a messenger of the queen who followed him to the port where he intended to embark and induced him to return for a farewell audience. With a handsome present of money and silver plate he took passage on a vessel placed at his disposition to convey him to Lübeck. Off the coast near Dantzic a violent tempest arose. On the 17th of August, 1645, the vessel was driven ashore and Grotius, overcome by his trying experiences, was taken ill at Rostock, where a few days later he passed away.
The later years of his life had been chiefly devoted to plans for the establishment of peace in the religious world, whose dissensions gave him great distress of mind.
The country of his birth, which had so long denied him citizenship, received him at last to the silent hospitality of the tomb. His body was taken to Delft, his native town, where his name is now held in grateful reverence.
At the time when Grotius left Stockholm, the last of the plenipotentiaries had arrived at Münster and Osnabrück to attend the great European congress convoked to terminate the hostilities of the Thirty Years' War. It is a tradition, but incapable of satisfactory proof, that it was with the purpose of being present at the councils of this congress that the author of "De Jure Belli ac Pacis" left Sweden for Germany. However this may be, it is certain that the mediation of the king of Denmark at Osnabrück and of the papal legate at Münster, though unsuccessful, was in accordance with the idea of Grotius expressed in the words: "It would be useful, and indeed it is almost necessary, that certain congresses of Christian powers should be held, in which controversies that have arisen among some of them may be decided by others who are not interested." The immediate establishment of an international tribunal, evidently contemplated in this suggestion, was not in harmony with the temper of those times; but it cannot be doubted that the Peace of Westphalia, whose treaties were to form a code of public law for Europe, was to a great degree an embodiment of the principles which Grotius was the first to enunciate.
His "De Jure Belli ac Pacis" had already become a classic even before the author's death, and special professorships were soon founded in the universities to expound its principles. It would be tedious to name the numerous editions, translations, and commentaries which have given it an exceptional place in the literature of Europe. This task has been in part performed, however, by Dr. Rogge in his "Bibliotheca Grotiana," published at The Hague in 1883, and intended to be a full bibliography of Grotius's works. The whole number of titles included is 462, but they do not comprise the writings of the generations of jurists who have been inspired by the great master or of the critics and biographers who have discussed his life and work.
Tardily, but with full contrition for the bitter wrong done to one of her greatest and noblest sons, the memory of Grotius has received from his native land abundant recognition and commemoration. The appropriate tomb that marks his resting place in the Nieuwe Kerk at Delft, symbolical of his learning, genius, and renown, was erected in 1781. On the 17th of September, 1886, a noble statue of the great jurist was unveiled in the public square of his native town in front of the church which contains his tomb. Thus, more than a century after his death, and again still another century later, Holland has paid her tribute of respect to her illustrious citizen.
The later years have also brought new honors to Grotius's feet. At the recent Peace Conference at The Hague was completed the great structure of international comity whose corner stone was laid by him in 1625. It was most fitting that an international congress called in the interest of peace should blend with the negotiation of conventions for the pacific settlement of disputes between nations by a permanent tribunal, and for the amelioration of the laws of war, a celebration of the distinguished writer whose great thought had at last borne such precious fruits. In pursuance of instructions received from the Secretary of State, the United States Commission invited their colleagues in the congress, the heads of the Dutch universities, and the high civic authorities to join with them in observing the 4th of July by celebrating the memory of the great jurist. With appropriate exercises in the apse of the old church, near the monument of Grotius and mausoleum of William the Silent, the representatives of twenty-six nations gathered to do him honor. A beautiful commemorative wreath of silver was laid upon Grotius's tomb bearing the inscription:
to THE MEMORY OF HUGO GROTIUS in Reverence and Gratitudefrom the United States of Americaon theOccasion of the International Peace ConferenceatThe Hague July 4th, 1899.
An eloquent oration by the Honorable Andrew D. White, Ambassador of the United States to Germany, and the head of the Commission, followed by other appropriate addresses, recalled the debt of mankind to the author of "De Jure Belli ac Pacis" and thus the plenipotentiaries of the nineteenth century did homage to the exile of the sixteenth who had taught the world that even in the shock and storm of battle humanity cannot escape the dominion of its own essential laws, and that even independent states are answerable before the bar of human nature for obedience to principles imposed by a Power higher than the prerogatives of princes or the will of nations.
David J. Hill
4. "Grotius and the Natural Law Tradition" (1978)↩
[Jacques Callot, "Plundering and Burning a Village" from The Miseries and Misfortunes of War (1633)]
Source
This essay first appeared as an Editorial in the journal Literature of Liberty: A Review of Contemporary Liberal Thought, vol. 1, no. 4 October-December 1978 published by the Cato Institute (1978-1979) and the Institute for Humane Studies (1980-1982) under the editorial direction of Leonard P. Liggio. </titles/910#lf0353-04_1978v4_head_009>.
"Grotius and the Natural Law Tradition"
The uniqueness of Greek and Roman culture is important in accounting for the crucial difference between European and non-European civilizations. Whatever the status of the debate over "the Ancients and the Moderns" (the classicists claim the pygmy Moderns are standing on the shoulders of the giant Ancients), European civilization has been profoundly influenced by the perfections and faults of the classical world. The concept of natural law is the heritage from the Ancients which has had the most profound impact on the flowering of liberty.
Natural Law flourished in the Hellenistic period under the Stoics from the Greeks Zeno of Citium and Chrysippus to the Romans Cato the Younger, Seneca, and Marcus Aurelius. The Stoics posited an identification of physis and nomos, nature and law. The wise man lived in harmony with nature; he was not dragged in the train of events. The Stoics emphasized the "common. law" of all peoples, jus gentium, the law of nations against each state's civil or public law. Chrysippus, "a philosopher learned in history, delighted in collecting examples of historical relativism; but like all the Stoics he was undisturbed by the diversity of the phenomena, for behind all the variety there is agreement at least about the basic issues, the agreement of reasonable men of all times and countries".1 Thus, although Chrysippus' historical knowledge caused him to regard all human laws as mistaken, this did not lead him to the disorder of government by man over man as it did with the Sophists. This knowledge led him instead to praise the order of the universality of natural law and each person's equality before that law.
The law of nations, which the Stoics viewed as the shadow of natural law, was derived from principles of private law as developed by Roman law-finders. Hayek has compared the persistence of private law, rooted in spontaneous social relations, to the ephemeral character of public law, based on political, imposed relations.2 Hayek relates the achievement of some degree of individual liberty to societies like ancient Rome and England, where private law was in the hands, not of the government (legislators and executives), but of private law-finders (jurists and judges). Hayek's and the Stoics' analyses are complimentary.
Stemming from the Stoics and Thomas Aquinas and reaching down to Adam Smith and Thomas Paine, natural law has been the basis for the development of modern liberalism. However, the writings of Hugo Grotius (Huig van Groot, 1583-1645), especially De jure belli et pacis (1625), constitute a watershed in the history of ideas because Grotius completed the process of founding natural law in human nature. F. J. V Hernshaw,3 has emphasized that the origins of Grotius's exposition can be found in the then great debate over whether obedience should be paid to political authority. Juan de Mariana, S. J. (1536-1624), Spanish historian and theologian, argued in De rege et regis institutione (1599), that it was lawful to overthrow a tyrant.4
Grotius inherited his opposition to tyranny. His father was the curator of the University of Leyden, center both of commercial Holland's Republican opposition to the militarism of the Princes of Orange as well as of the anti-Calvinist and bourgeois Arminianism. Grotius devoted himself to expounding the Arminian view of tolerance; his religious writings emphasized that the truths of Christianity, which were held in common by Catholics, Calvinists, Lutherans, and Arminians, were fundamentally more important compared to the peripheral points on which they felt they differed.
Grotius's appetite for learning and his encyclopedic knowledge were recognized at age twenty when he was appointed Historiographer of his province, Holland. Historical research continually engaged Grotius's attention, and his historical writings included De antiquitate reipublicae Batavae and the Annals of the Low Countries, on which he worked until his death.
In 1609 Grotius published one of his most significant works, Mare Liberum. To the question of whether the seas could become state property, he answered a resounding no! No government had the right to exclude other nations' merchant ships from any seas. Soon England sought to claim the exclusive use of the North Sea and English Channel, and the master historian of English law, John Selden (1584-1654) in Mare Clausum (1632) vainly attempted to rebut Mare Liberum.
Grotius, as Pensionary of Rotterdam, wrote an edict of toleration which was issued by the States General of the United Provinces of the Netherlands. Religious toleration was opposed by the Prince of Orange, the military commander, who sided with the Calvinists against the Arminians. In part, the prince reacted to the Dutch bourgeoisie (the Arminians) who insisted upon acceptance of the favorable peace offered by Spain in order to concentrate on commercial activities. The prince, rural gentry, and Calvinist clergy saw peace as undermining discipline while introducing luxury based on commerce. In 1618, the privileged, military Calvinists struck at the capitalist Arminians. By a coup d'état, the prince's army disarmed the militias of the Dutch cities. The Republican leaders, Johan van Oldenbarneveldt and Grotius were arrested. The former was executed and Grotius condemned to life imprisonment. Rescued by his wife's efforts, Grotius escaped in a chest which was supposed to contain his Arminian books; he was given refuge in Paris (1621).
The beginning of the Thirty Years' War (1618-1648) with its pillaging, violation, and massacre of civilian populations horrified Grotius. Aided by the researches of his brother, William, and his own unrivaled memory, Grotius wrote De jure belli et pacis (1625) in one year. Basing himself on the Stoics, Roman jurists, and medieval scholastics, Grotius drew most heavily from the sixteenth century Spanish philosophers of law-Francisco de Vitoria (1483-1546), Luis de Molina (1536-1600), and Francisco Suarez (1548-1617).
Grotius, in his Prolegomena to The Law of War and Peace, states that man is characterized by a strong sociability, by a desire to spend his life together with his fellow men, "and not merely spent somehow, but spent tranquilly and in a manner corresponding to the character of his intellect. This desire the Stoics call the domestic instinct, or feeling of kindred." Grotius denied the universality of "the assertion that every animal is impelled by nature to seek only its own good" since some animals "restrain the appetency for that which is good for themselves alone, to the advantage now of their offspring, now of other animals of the same species." Sympathy for others develops spontaneously among children, and increases with maturity "together with an impelling desire for society, for the gratification of which he alone among animals possesses a special instrument, speech. He has also been endowed with the faculty of knowing and acting in accordance with general principles."
Grotius derived from this sociability the concept of law. "To this sphere of law belong the abstaining from that which is another's, the restoration to another of anything of his which we may have, together with any gain which we may have received from it; the obligation to fulfill promises, the making good of a loss incurred through our fault, and the inflicting of penalties upon men according to their deserts." Finally, Grotius emphasized the scholastic concept of time-horizon: man's power of discrimination between "what things are agreeable or harmful (as to both things present and things to come), and what can lead to either alternative, in such things it is meet for the nature of man, within the limitations of human intelligence, to follow the direction of a well-tempered judgment, being neither led astray by fear or the allurement of immediate pleasure, nor carried away by rash impulse. Whatever is clearly at variance with such judgment is understood to be contrary also to the law of nature, that is, to the nature of man."
The pressures of the Thirty Years' War created the conditions for revolutions throughout Europe. The most famous were the Republican movements in the English Civil War and the Fronde in France. But Grotius did not live to see his vindication in the restoration of Republican rule to the Netherlands. The Peace of Westphalia (1648), which ended the Thirty Years' War, was concluded by the pacific Dutch capitalists and was opposed by the Prince of Orange. Finally, the Republicans gained dominance and established a decentralized constitution with each province controlling the army and religion within its own borders.
This history was well-known to the fathers of the American Revolution. Likewise, the impact of Grotius's jurisprudence was transmitted to them via Samuel Pufendorf (1632-1694), through Locke, Rousseau, Barbeyrac, Burlamaqui, Blackstone, and Montesquieu.5
Endnotes
[1] L. Edelstein, The Meaning of Stoicism (1966).
[2] F. A. Hayek, The Confusion of Language in Political Thought (1976).
[3] F. J. V Hernshaw, The Social & Political Ideas of Some Great Thinkers of the Sixteenth and Seventeenth Centuries (1926).
[4] Oscar Jaszi & John D. Lewis, Against the Tyrant (1957).
[5] Forrest McDonald, "A Founding Father's Library," Literature of Liberty 1 (January/March 1978].
Liberty Matters: "Hugo Grotius on War and the State" (March 2014)↩
Source
This was an online discussion which appeared in "Liberty Matters: A Forum for the Discussion of Matters pertaining to Liberty" on Liberty Fund's Online Library of Liberty website during the month of March, 2014.
The online version of the discussion can be found at < /pages/lm-grotius > and ebook versions at <oll.libertyfund.org/titles/2590>.
The place that Grotius holds in the history of international law and the laws which regulate war and peace is one that has been recognized at least since the 18th century, but more especially in the treaties and international agreements which emerged out of the major conflicts of the 20th century. In this discussion, Fernando R. Tesón, the Simon Eminent Scholar at Florida State University College of Law, explores what Grotius thought about the proper relationship between the laws of nature and the laws of nations, the limits (if any) which can be legitimately and rightly placed on the conduct of states engaged in war, and asks whether Grotius' insights have any relevance today. Tesón's essay is commented upon by Hans W. Blom, visiting professor in the history department of Potsdam University (Germany); Paul Carrese, professor of Political Science at the U.S. Air Force Academy; and Eric Mack, professor of philosophy at Tulane University and a faculty member of the University's Murphy Institute of Political Economy.
Other "Liberty Matters" discussions can be found at </pages/liberty-matters>.
The Debate
Lead Essay: Fernando R. Tesón, "Hugo Grotius on War and the State" [Posted: march 3, 2014]
Eric Mack, "Grotius on the Law of Nature, the Law of Nations, and the Rights of Peace versus the Rights of War" [Posted: March 5, 2014]
Hans W. Blom, "Liberty and the Law" [Posted: March 7, 2014]
Paul Carrese, "The Moderation of Grotius" [Posted: March 9, 2014]
About the Authors
Fernando R. Tesón is the Simon Eminent Scholar at Florida State University College of Law. Known for his scholarship relating political philosophy to international law (in particular his defense of humanitarian intervention), and his work on political rhetoric, Professor Tesón is author of Humanitarian Intervention: An Inquiry into Law and Morality (3rd ed. fully revised and updated, Transnational Publishers 2005); Rational Choice and Democratic Deliberation (Cambridge University Press 2006; with Guido Pincione); A Philosophy of International Law (Westview Press 1998); and many articles in law, philosophy, and international relations journals and collections of essays. He has served as a professor of law and affiliate professor of philosophy at Arizona State University, where he taught for 17 years prior to joining Florida State University's faculty. Before entering academia, Professor Tesón was a career diplomat for the Argentina Foreign Ministry in Buenos Aires for four years. He resigned from the Argentine foreign service in 1981 to protest against the human rights abuses of the Argentine government. He has served as visiting professor at Cornell Law School, Indiana University School of Law, University of California Hastings College of Law, and the Oxford-George Washington International Human Rights Program, and is Permanent Visiting Professor, Universidad Torcuato Di Tella, Buenos Aires, Argentina.
Hans W. Blom is visiting professor in the history department of Potsdam University (Germany), in the section of intellectual history. He was previously at Erasmus University Rotterdam (The Netherlands), with visiting research positions at King's College, Cambridge, the RSSS-ANU in Canberra, the University of Buenos Aires, and the Institute for Research in the Humanities at the University of Wisconsin-Madison. His research focuses on the history of political thought with special attention to the interaction between the world of ideas and that of institutions. Professor Blom believes that economic thought and ideas are part and parcel of politics, and is particularly interested in tracing the presence and handling of economic issues in the period before Adam Smith, and their significance for the construction of classical political economy. Hans Blom has published widely on this and related topics: Causality and Morality in Politics (1995) and edited volumes on Monarchisms in the Age of Enlightenment: Liberty, Patriotism, and the Public Good (2007), and Property, Piracy and Punishment: Hugo Grotius on War and Booty in De iure praedae (2009). Presently he is editing Pieter de la Court's Interest of Holland (1662) for Liberty Fund.
Paul Carrese is professor of Political Science at the U.S. Air Force Academy, and co-founder and former director of its great-books honors program. He holds a doctorate from Boston College in political science, and master's degrees from Oxford University in theology and in philosophy & politics. He has been a Rhodes Scholar, a research fellow at Harvard, a Fulbright Scholar at University of Delhi, and a Visiting Fellow in the James Madison Program, Politics Department Politics, Princeton University; he taught at Middlebury College before coming to the Academy in 1998. He teaches, researches, and publishes in political philosophy, constitutionalism, American political thought and constitutional law, and American foreign policy and grand strategy. He is the author of The Cloaking of Power: Montesquieu, Blackstone, and the Rise of Judicial Activism (Chicago, 2003; paperback, 2013), and his manuscript on the philosophy of moderation in constitutional democracies, Democracy in Moderation: Montesquieu, Tocqueville, and Sustainable Liberalism, is under review. He is co-editor of John Marshall's The Life of George Washington: Special Edition (2001); of Constitutionalism, Executive Power, and Popular Enlightenment (SUNY Press, forthcoming 2015); and, of American Grand Strategy: War, Justice, and Peace in American Political Thought, just contracted with Johns Hopkins University Press.
Eric Mack is professor of philosophy at Tulane University and a faculty member of the University's Murphy Institute of Political Economy. His many scholarly essays focus on moral individualism and the moral foundations of rights, the nature of natural and acquired rights, property rights and economic justice, the legitimate scope of coercive institutions, and the history of classical liberal and libertarian theory. He is the author of John Locke (Bloomsbury 2013). Eric has also written other essays and annotated bibliographies on 17th-century political theorists such as John Locke, James Tyrrell, Robert Filmer, and Thomas Hobbes for the Online Library of Liberty and was the lead author for the first installment of Liberty Matters, viz., "Locke on Property."
Additional Reading
LEAD ESSAY: Fernando R. Tesón, "Hugo Grotius on War and the State"↩
In his monumental treatise, De Jure Belli ac Pacis (The Rights of War and Peace (1625), Dutch jurist and diplomat Hugo Grotius lays down not only the principles of international law, but also theories of property and punishment, and even a rudimentary sketch of social-contract theory. In this essay I examine Grotius's views on war and the state, with a special emphasis on jurisprudential method.  Many writers value Grotius because he was the first thinker to explore some of the themes of the Enlightenment. His work is located at the precise moment when the new ideas start to pull away from their medieval roots – a philosophical evolution that would culminate in the great works that cement the social-contract tradition. Grotius is, then, a transitional figure, and maybe for that reason it may seem unfair to compare him to the intellectual giants who came after him. Yet he deserves to be judged on his merits. I attempt to do so in this essay.
I. The Question of Method
Like many of his contemporaries, Grotius was a natural-law thinker. But the natural law he endorsed differed from that of his great predecessor, St. Thomas Aquinas.  The differences are many, but two are salient. First, while Aquinas thought rational creatures accede to natural law by participating in the divine will, Grotius believed that natural law is discovered by human reason alone.  For Grotius, God's commands are binding because they comport with the Law of Nature (PD, 89-90).[1] The second and more important difference is that Grotius's version of natural law is less robust than Aquinas's.  To Grotius, natural law only commands us not to act contrary to Right; it does not command virtue, as in the Christian tradition.  He divides the Law of Nature into two subsets. The first reflects our instincts ("First Impressions of Nature"), especially our impulse to survive. The second reflects our higher faculties of sociability and rationality ("Decorum") (I.II. III, 188 ff.). Grotius thought that this second part of the Law of Nature was the more important because it urged us to restrain our instinctual behavior for the sake of sociability. Accordingly, natural-law rules are basic: we must refrain from behavior "repugnant to society." More specifically, natural law enjoins us to abstain from that which is another's, to restitute that which belongs to another, to fulfill our promises, to compensate damage we've caused, and to administer criminal punishment (PD, 86).
This brings us to the central methodological problem that Grotius faces throughout the book: the relationship between natural law and positive law.  According to Grotius, the Law of Nations, i.e., the laws that are "common to many nations and rulers of nations," has three components. The first one is derived from natural law; the second is decreed by divine will; and the third one is created by custom (PD, 75). As we saw, natural law consists of a few prohibitions.  A straightforward natural-law account, then, would be that the Law of Nations harbors moral norms derived from reason and positive norms enacted by human beings. Grotius's natural-law ancestors thought that human law could not overrule natural law; arguably, that is what it means to hold a natural-law view.  But this is not Grotius's view. He says, reasonably enough, that the Law of Nations may not command what the Law of Nature prohibits (II.II.V, 493). But the Law of Nations may permit what the Law of Nature prohibits (III.IV.XV, 1290). For example, the Law of Nations may permit killing noncombatants in war, an act presumably prohibited by the Law of Nature.  But while this new customary permission is inconsistent with natural law, Grotius, contrary to his fellow natural lawyers, insists that it is binding. By this Grotius does not mean the tautology that the new permission is legally binding. He means that the permission (for example, to kill noncombatants) is morally binding, so that others may not validly interfere with the agent's acting on the permission (killing noncombatants).  This is because pacta sunt servanda  ("agreements must be kept") is a central principle of the Law of Nature. The Law of Nature enjoins us not only to respect possessions but also to honor our agreements (PD, 86). Since the newly introduced permission is an agreement, it overrules the prior prohibition.
Grotius is correct that a mere permission that derogates from an antecedent prohibitory norm does not offend that norm as much as a command to do that which the norm prohibits.  Again, assume the Law of Nature prohibits killing noncombatants.  If custom subsequently authorizes such killing, then it logically contradicts the prohibitory norm, since the latter says that sparing noncombatants is obligatory. The new permission defeats the purpose of the antecedent prohibition, which made the negation of the behavior in question (sparing noncombatants) obligatory. But it would be even worse if the Law of Nations commanded such killing, because in that case sparing noncombatants would be prohibited. That the Law of Nationspermits that which the Law of Nature prohibits means that people are authorized to comply with the Law of Nature if they so desire.
The Law of Nature, then, is a complicated moral system. It prohibits rights violations unless people agree to violate rights, because there is a meta-norm, pacta sunt servanda, that controls the other norms in the system. In the absence of agreement the Law of Nature provides default rules that enjoin rights violations. The resulting normative system (the new permissions plus whatever default rules remain) is itselfobligatory by application of pacta sunt servanda. Only then can Grotius avoid the obvious implication that these permissions are morally invalid.
If this reading is correct, then Grotius's initial statement that the Law of Nations consists of divine commands, rationally accessible natural law, and human law, all coexisting peacefully, is inaccurate.  Rather, Grotius's real view is that in the Law of Nations consent reigns supreme, and only in the absence of consent do natural-law norms govern by default, except that consent cannot validly command what the Law of Nature prohibits.  One may perhaps offer a (kind of) libertarian interpretation of Grotius's claim, namely, that individuals can waive the rights that natural law accords them. The problem with this interpretation is that in Grotius's examples the right-holders donot alienate their rights; rather, the monarchs agree among themselves to violate the rights of others. If the Law of Nature prohibits killing civilians, then (on any plausible libertarian account) only those civilians have standing to waive their rights not to be killed. So Grotius's view cannot be read in this way. Rather, for him the derogations from the Law of Nature are agreed upon by governments. The Law of Nature, now via pacta sunt servanda, enjoins us to respect these agreements. This move saves Grotius from inconsistency, but it certainly undermines his natural-law credentials and his (presumed) commitment to individualism.
Aside from this problem, Grotius's method is quite messy because it does not allow us to tell when a rule belongs to the Law of Nature and when it belongs to the Law of Nations.  The standard way to distinguish them is to make a philosophical argument in support of a moral rule and a legal argument in support of a legal rule.  Grotius's uses neither.  In fact, he uses the samemethod throughout: he appeals to the opinions of the wise, the more ancient the better. To prove that a rule exists (in either the Law of Nature or the Law of Nations) Grotius cites a multitude of ancient authors, philosophers, poets, playwrights, biblical texts, and opinions by old monarchs as referenced by ancient historians. (See Grotius's justification for this method at PD, 108-111.) For example, he sets out to prove the permissibility of war (against pacifists) by resorting to biblical account (I.II.185 ff.). Even conceding that this method may be suitable for ascertaining morality, it is unsuitable for ascertaining the law. The Law of Nations, as Grotius correctly says, is diplomatic practice, that is, custom and treaty. Yet Grotius cites virtually zero diplomatic practice in support of international-law rules, notwithstanding the fact that there was plenty of practice circa 1625. In the end, Grotius's method is unsatisfying because he eschews philosophical argument to prove morality and eschews legal argument to prove international law.
II. War
a) Ius ad Bellum
Here we should distinguish between international wars and civil wars (revolutions). With respect to international wars,Grotius follows the just-war tradition both by rejecting pacifism and by requiring a just cause for waging war.  At the beginning of the treatise, Grotius is concerned with establishing the permissibility of war against pacifists.  Maybe for that reason, he initially formulates the just-cause requirement in negative terms: a war that does not infringe on the rights of other nations is permissible (I.II.I, 184).  This may create the impression that the default rule is the permissibility of war. On closer examination, however, this is not so. Later in the treatise he accurately distinguishes between reasons and motives for war (II.I.I, 389). Reasons are proper justifications, moral reasons; motives are prudential reasons. Only the former can constitute just cause: all wars should be "founded on the substantial basis of truth and justice" (II.I.I, 391). While most sovereigns wage war for a mix of motives and reasons (II.XXII.III, 1099), a war is just only if it is a reaction against an injury received (II.I.I.393). (Luban 2011: 306) Contrary to initial appearances, the default rule is not that war is permissible. Wars for reasons otherthan righting wrongs are disallowed.
This reading is confirmed by Grotius's listing of just causes for war. There are only three: self-defense, the recovery of what is ours, and punishment (II.I.I, 395). Grotius not only disallows self-interested reasons, such as territorial aggrandizement or national glory, he likewise rejects the "security dilemma" as a just cause: fear of a neighbor's power is not enough. And he rejects paternalistic reasons:  that possessors are "fools" is not enough reason to dispossess them (II.XXII, 1102-1113).  His standard for national-self-defense is quite high: the force used must be necessary to defend ourselves against unjust attacks.  And presciently, Grotius warns against self-delusion. A ruler may persuade himself too easily that he has a just cause and plunge into war on bad motives even if he has ostensibly good reasons (II.XXII, 1113). Grotius's views here are quite visionary and announce the international-law developments of the late 20th century.  But it would be a mistake to equate Grotius's view with the current legal position: Grotius thinks that recovery of one's lawful possession is a just cause for war, whereas modern international law generally forbids this, at least when the unjust taking does not constitute an armed attack.
Grotius's views on humanitarian intervention deserve separate comment. (For a full treatment, see Tesón 2005.) The default rule is that humanitarian intervention is impermissible because established governments have a "certain" right to rule (II.XXV. VIII, 1159). But then Grotius writes, famously, that when princes abuse their authority in a way that "no Good Man living can approve," then armed intervention can be justified (II.XXV. VIII, 1161).  He warns against the dangers of abuse, and says that humanitarian intervention may not be undertaken if the intervener's own subjects are unduly burdened. (See Holzgrefe 2003: 25-27.)
The most remarkable feature of this view is that humanitarian intervention is permissible even where revolution is not. Grotius's view that even if the subjects themselves may not revolt "others might … do it for them" runs against the modern view that the threshold for foreign intervention should be higher than the threshold for domestic revolution. (See Dobos 2012: 73-99.)
Grotius takes quite a restrictive view of the right to resist authority. To be sure, he says that if the sovereign commands something against natural law, the subjects need not obey (I.IV.I, 337).  This statement must be qualified in view of Grotius's claim, already discussed, that law or custom may amend the Law of Nature by introducing enabling permissions. Suppose that the Law of Nature prohibits sovereigns from enslaving their subjects. If custom subsequently allows slavery, then the antecedent natural-law prohibition does not hold, and rulers are free to enslave. It is true that, strictly speaking, the law does not command slavery, but this is not much consolation to the slave.
But what if the sovereign injures the subjects?  They, Grotius tells us, must patiently endure the injuries and not resist them by force (I.IV.I, 338). Civil disobedience is fine; violent revolution is not.  An unlimited right to resistance would undermine the end of the state, which is to secure "peace and good order." He even says that if subjects had a right to resistance, there would be no state. (Compare with Kant 1996: 95-98.) And as a matter of practice, the right of resistance "is looked upon as unlawful, according to the Usage of all States" (I.IV.I, 340). So the argument is two-fold: as a matter of principle, the right to revolution is inconsistent with the end (and maybe the very idea) of a state, and as a matter of law, such right is unrecognized. Grotius veers dangerously close to upholding the divine right of kings as a justification of government.  He quotes the scriptures for the view that God wanted us to endure iniquity at the hands of rulers. We must give to Caesar what is Caesar's, and in this way we will be rewarded for that patience in the afterlife by the greatest of all sovereigns (I.IV.I, 344-45).
Severe as Grotius's principle of nonresistance is, it is not absolute.  He concedes that subjects may forcibly resist the sovereign in cases of extreme necessity, when their own survival is threatened. He gives a hypothetical-consent argument: subjects are deemed to have agreed to civil authority to secure order and peace, but they are not deemed to have consented to their own extermination (I.IV.VII, 356 ff.).  We saw that the threshold for revolution is higher than the threshold for foreign intervention, yet it is unclear what the difference may be. For intervention, the standard is "visible injustice … which no Good Man living can approve"; for revolution, the standard is survival. So in spite of what Grotius says, the two do not seem that different after all.  And for Grotius this right to resist in extremis is not individually held. The historical examples he gives suggest that groups, not individuals, may legitimately revolt to prevent their own extermination – in modern words, to prevent genocide.
b) Ius in Bello
Book III examines the laws of war. Grotius's treatment is important because at the time he wrote, these laws were in their formative period. He first vindicates the morality of war against the adage inter arma enim silent leges (for among [times of] arms, the laws fall mute).  When undertaken, war ought not to be carried "beyond the Bounds of Justice and Fidelity" (PD, 101).  But Grotius's approach is unusual. He first tells us what the Law of Nature requires. Simply put: we are allowed to kill the enemy because the enemy threatens us (III.I, 1185 ff.). We can also take his property, but only to the extent necessary to our security. These rights are independent of the enemy's culpability or innocence.  This right to use force includes punishment, but only "within the bounds of Equity," so we are not entitled to kill or destroy in a manner disproportionate to the offense received (III, I, 1187). This approach to ius in bello (right conduct in war) is eminently reasonable, and it is generally followed in the modern literature and international conventions.
But after laying down these reasonable natural-law principles, Grotius reports what the Law of Nations really says. The result is alarming. In rapid succession we are told that the subjects' goods and bodies are owed for the Prince's debts (III.II.II, 1232-34); that all, including women and children, who are found in the enemy's territories may be killed or hurt (thus there is no principle obligating armies to discriminate between combatants and noncombatants) (III.IV.VIII-IX, 1281-84); that it is permissible to kill those who surrender (III.IV.X-XI-XII, 1284-88); that it is fine to waste and plunder (III.V.I-IV, 1303-12); and that prisoners of war and their families may be enslaved (III.VII.I, 1360-65). These are dramatic instances of the principle, already discussed, that positive law may permit that which the natural law prohibits. But here the permissions are so many and so inhumane that they virtually overrule the moral principles that Grotius defends at the beginning of Book III. The law of war circa 1625 (if we are to believe Grotius) was deeply immoral.
Aware of this, Grotius invites his readers (sovereigns included) to set aside the horrible practices he just described and exercise moderation. In chapters XI to XXV Grotius essentially reverses many of the permissions introduced by the consent of states.  He intends to "take away from those who make War almost all the Rights which I seem to have granted them; but which in Reality I have not" (III.X.I, 1411). Honor and conscience, he says, often forbid what the Law of Nations permits. Honor is not so much other-directed, but rather consists of the agent's own search for equity and justice (III.X.I, 1413). This turnaround is welcome, of course, but conceptually puzzling.  Are these moderate rules grounded in honor and conscience the same as the Law of Nature? Are these recommendations mere exhortations or, to the contrary, true descriptions of moral duties? If the latter, how is this new position consistent with Grotius's view that custom may validly derogate from natural law? (See Forde 1993: 646-47.) It is hard to tell.  What is clear is that Grotius believed that the practice of war fell far short of the standards of justice. If so, his recommendations are exhortations addressed to the powerful to humanize war, rather than a full-fledged philosophy of war.
III. The State and Property
There is considerable scholarly disagreement about Grotius's theory of the state. But this much can be said: Grotius thought that human institutions derived ultimately from human nature. Human beings have an "exquisite desire for Society" (PD, 84). This sociability is the "fountain of all Right" (PD, 86) that leads people to establish political institutions. But these institutions are manmade; they are the result of human will, of an agreement (PD, 93; II.II.II, 426-27). This social contract is morally binding in an indirect way. The Law of Nature, via sociability, leads individuals to arrange their affairs by enacting civil laws. (See Rabkin 1997: 297-98.) These civil laws are then binding on subjects because they agreed to them, whether or not the laws contradict some precept of the Law of Nature. Nowhere is this clearer than in Grotius's discussion of private property. He thinks that God gave all men dominion in common of all things (II.II.II, 420-21). But over time, this idyllic state of affairs could not endure; for a variety of reasons, it was necessary to assign lands to families (II.II.II, 426-27). The institution of private property thus became the core of the civil laws, that is, the centerpiece of the state. The social contract determines mine and thine, and thus provides the substance for the operations of the Law of Nature itself. Recall that the Law of Nature enjoins us to respect rights. For Grotius, these rights are essentially property rights.
It is worth noting that Grotius did not think that people would create political institutions only out of self-interest. He thought that individuals were capable of acting out of altruistic motives, and this partially altruistic disposition made the social contract possible. (See de Araujo 2009: 355-56.) There is a tension also between Grotius's claim that things belonged originally to all men in common and his vindication of the right of original occupation (II.II.II, 421). Is this right also part of the Law of Nature, or is it a feature of the social contract? And does the right of occupation grant all the features of property or only the right to use? (See Salter 2001.) Finally, while Grotius is quite modern in his conception of the Law of Nature as resting on rights, he does not come close to endorsing a modern theory of constitutional rights – let alone endorsing any redistributive function of the state (understandably, given the period). Yet it is possible to formulate an updated liberal Grotian theory of the state. If the principle of self-ownership is accepted, then all rights invasions will constitute trespass and all modern constitutional rights may be conceived, in Grotian fashion, as property rights.
IV. Conclusion
Almost a century ago, a British commentator opined that Grotius "imitated the brevity and terseness of style of Tacitus without exhibiting the insight and penetration of his model. His philosophy of history is of the simplest and crudest nature." (MacDonnell 1919: 18) And Thomas De Quincey blasted De Jure Belli ac Pacis: "Take away the Greek and Latin seasoning, which (in conjunction with the laconic style) has kept the book from putrefying, all the rest is pretty equally divided between empty truisms, on one hand, and time-serving Dutch falsehoods, on the other." (Cited in MacDonnell 1919: 19.) While certainly Grotius's scholarly stature pales in comparison to Hobbes, Locke, Kant, or Rousseau, these judgments are too harsh. Grotius prefigured, albeit in an embryonic fashion, some of the themes that came later. And if his views on war were intended for princes, this should be commended, not criticized.  His central message to the powerful was imbued with a humanist spirit: international law (then as today, I might add) had not yet caught up with the demands of justice.
End Notes
[1.] All references are to Hugo Grotius, The Rights of War and Peace, 3 vol., edited by Richard Tuck (Liberty Fund, 2005). Following custom, the references are to the Preliminary Discourse (PD) or Book, as the case may be, chapter, section, and page.
RESPONSES AND CRITIQUES↩
1. Eric Mack, "Grotius on the Law of Nature, the Law of Nations, and the Rights of Peace versus the Rights of War"↩
Fernando Tesón makes a good case for each of his readings of Grotius's doctrine in The Rights of War and Peace.  His readings may indeed be the best readings of the text.  As an amateur reader of Grotius, I have no rational confidence that any of my alternative readings are better.  Nevertheless, with that major caveat, I want to present very briefly a somewhat different vision of Grotius on the Law of Nature and the Law of Nations.  In general I want to highlight features of Grotius's doctrine that make Grotius an important forerunner of classical-liberal thought.  Here I address only some of the ways in which Grotius is a herald of liberal theory.
1. The Law of Nature
Grotius begins The Rights of War and Peace by saying that, rather than wanting to discuss the Civil Law, which differs from one nation to another, he wants to provide an account of "that Law, which is common to many Nations or Rulers of Nations, whether derived from Nature, or instituted by Divine Commands, or introduced by Custom and Consent…" (I. PD. I).  Tesón reads Grotius to be announcing that he wants to study the Law of Nations and that Grotius takes the Law of Nations to consist of "divine commands, rationally accessible natural law, and human laws."  I disagree. 
To begin with, the "instituted by Divine Commands" was inserted by Grotius into the 1631 edition – apparently to placate the conservative officials who Grotius hoped would allow him to return to Holland from exile.  Also, there are two distinct bodies of Law that are "common to many Nations or Rulers of nations."  There is the Law of Nature (which is "derived from Nature") and there is the Law of Nations (which is "introduced by Custom and Consent").  So, at the beginning of The Rights of War and Peace, Grotius is saying that he wants to study the Law of Nature and the Law of Nations; moreover, Grotius is not taking the Law of Nature to be a constituent of the Law of Nations. 
In fact, the rest of the opening chapter, "The Preliminary Discourse," is almost entirely about the Law of Nature (and not the Law of Nations).  For Grotius's immediate concern is to refute those – like Carneades – who reject the existence of the Law of Nature.[2]   We cannot here attempt to go through the details of this refutation.  We can only note that Grotius holds that the foundation of Carneades's challenge to the Law of Nature – i.e., to the idea of natural justice – is the proposition that the sole motive for all human action is the promotion of personal advantage.  Grotius attacks this foundation by maintaining that there is a further important motive for human action, viz., "the Desire of Society," which is "a certain Inclination to live with those of his own Kind, not in any Manner whatsoever, but peaceably, and in a Community regulated according to the best of his Understanding…" (I. PD. VI).
The Desire of Society turns out not to be some generalized empathy but, rather, a disposition to live in accordance with rules, general compliance with which sustains mutually beneficial social order.  We can discover through reason what the rules are that must generally be abided by if a mutually advantageous social order is to exist.  Those rules, discovered by reason in light of the character of human beings and the circumstances of their existence, are the Laws of Nature.  Or, somewhat more specifically, these rules are the Laws of Nature properly and strictly speaking.  There are other rules that are guides to living well that are also part of the Law of Nature, though in an extended and less proper sense.  
The Desire of Society does not displace but, rather, exists alongside of the desire for personal advantage. The Laws of Nature do not displace the "first Duty" of nature which is for "every one to preserve himself in his natural State, to seek after those Things which are agreeable to Nature, and to avert those which are repugnant" (I. II. I.1).  Rather, the Laws of Nature that arise through "the Knowledge of the Conformity of Things with Reason" (I. II. I.2) constrain the pursuit of personal advantage. 
According to Grotius, "Right properly so called" requires,
the Abstaining from that which is another's, and the Restitution of what we have of another's or of the Profit we have made by it, the Obligation of fulfilling Promises, the Reparation of a Damage done through our own Default, and the Merit [i.e., justification] of Punishment among Men. [I. PD. VII]

Right, properly speaking … consists in leaving others in quiet Possession of what is already their own, or in doing for them what in Strictness [by way of reparation or agreement] they may demand. [I. PD. X]
So, e.g., Grotius cites Cicero citing Chrysippus to the effect that "There is no Injustice in seeking ones [sic] own advantage; but it is contrary to Equity to take away from another" (I. I. X.4. note 8).
Although the Law of Nature constrains individuals in their pursuit of personal advantage, general compliance with those constraints makes mutually advantageous social interaction possible; moreover, one is admitted to that social interaction on the basis of one's being compliant with the Law of Nature.  Thus, according to Grotius, compliance with these constraints on how one pursues personal advantage is the key rational strategy for promoting one's personal advantage.  Thus, in a sense, Grotius seeks to hoist Carneades with his own petard. 
Yet, intriguingly, Grotius seems to argue that individuals will only get the payoff of mutual personal gain if they abide by the Law of Nature constraints for their own sake and not merely for the sake of those personal gains.  "Right has not Interest merely for its End…." and "the Moment we recede from Right, we can depend upon nothing" (I. PD. XXIII). If we did not have the alternative motivation supplied by the Desire of Society, we would never fulfill the desire for personal advantage.
2. The Law of Nature vs. the Law of Nations
The Law of Nations, like the Civil Law of particular nations, is the product of will rather than nature and reason.  In ways that do not seem to me to fit very well with the traditional notion of the Law of Nations (jus gentium), Grotius writes as though the Law of Nations is a code of conduct that governs only the interactions of States or the rulers of States.  It is said to be beneficial to States (or their rulers?) in some way that parallels the Civil Law of a given State being beneficial to that State (or the members of that State?). 
But as the Laws of each State respect the Benefit of that State; so amongst all or most States there might be, and in Fact there are, some Laws agreed on by common Consent, which respect the Advantage not of one Body in particular, but of all in general.  And this is what is called the Law of Nations, when used in Distinction to the Law of Nature. [I, PD. XVIII]
Rather than being a component or aspect of or handmaiden to jus naturale, the Law of Nations appears as an autonomous normative code that at most is slightly constrained by the Law of Nature. 
As Tesón indicates, the Law of Nature specifies the moral default position.  If the Law of Nations does not speak to a matter – e.g., whether prisoners in war may be killed – the Law of Nature stance that war prisoners may not be killed holds.[3]   But if the Law of Nations speaks, its voice will sometimes override or displace the voice of the Law of Nature.  As Tesón points out, according to Grotius, the Law of Nations can make permissible actions that are forbidden by the Law of Nature  (III. IV. XV.1).  So, e.g., the Law of Nations can (and does) make the killing of prisoners in war permissible.  Indeed, the Law of Nations underwrites the whole of the doctrine of "Solemn War" that Grotius lays out in Book III of The Rights of War and Peace.
A State is engaged in Solemn War if (and only if) it publically deliberates about and declares that war against a State or it becomes an "enemy" of another State through the other's deliberation and declaration.  There is a sense of "just" in which a war is just as long as it is Solemn.  In this sense of "just," all parties to a declared war are engaged in a just war.  This stands in sharp contrast to the Law of Nature teaching that the only just wars are those conducted to defend against, to attain reparations for, or to punish natural injustices.  Moreover, almost all the Law of Nature prohibitions on how war may be conducted, are overridden or displaced by permissions granted by the Law of Nations to engage in those naturally unjust modes of war-making.  Also, these permissions concerning the conduct of war apply to all the States contesting in a Solemn War – even the State whose cause is unjust in the eyes of the Law of Nature.
…in this [Solemn War] Sense, it is lawful for one Enemy to hurt another, both in Person and Goods, not only for him that makes War on a just Account, and does it within those Bounds which are prescribed by the Law of Nature. . . but on both Sides and without Distinction…  And in this Sense we are to take Sallust, By the Laws of War all Things are lawful to the Conqueror. [III. IV. III]
The result, as Tesón says, "is alarming."  Indeed, it seems that Grotius is eager to emphasize the barbarity of warfare in accordance with the Law of Nations.   And, as Tesón also notes, we then get a remarkable reversal.  For Grotius declares that on reflection, he must "take away from those that make War almost all the Rights, which I may seem to have granted them; which yet in Reality I have not" (III. X. I.1). 
Tesón rightly notes that it is not clear where this leaves Grotius.  In the name of what – honor, charity, virtue, reason – are we to turn away from the dictates of the Law of Nations?  Does this turn involve a general repudiation of the Law of Nations?  If it does, why does Grotius expend so much time and space laying out the dictates of the Law of Nations?
I like the radical hypothesis that Grotius does want us to jettison the Law of Nations as having prescriptive power.  On this hypothesis, Grotius's attention to the Law of Nations is attention to what he recognizes to be (part of) the positive law but not part of the prescriptively valid law.  For there is a "double Meaning of the Word lawful, the one being taken for that which is really lawful in itself, the other for that which is only lawful externally" (III. X. I.3).  The Law of Nations is to be denied prescriptive force primarily (at least) because it is or has come to be nothing but the Carneades-like sanctioning of unconstrained personal advantage.  And that is precisely what Grotius has set out to rebut and cast aside in the name of the Law of Nature.   (Note that Sallust's proposition quoted as a summation of the Solemn War doctrine could as readily appear at the outset of Grotius's treatise as an expression of the Carneadesian view.)  Moreover, the primary values that Grotius invokes in support of his reversal against the Solemn War doctrine are precisely the Law of Nature values of Equity, Justice, and Reason (III. X. I.2 & II.1 & III.1 & VI.1).  So, my wild hypothesis is that in the end, the Rights of Peace (which include the rights of naturally just war and naturally just conduct in war) vanquish the Rights of War.
Endnotes
[2.] The attack on Carneades must be entirely on behalf of the Law of Nature because, according to Grotius, Carneades does not discuss and, hence, does not challenge the Law of Nations (I. PD. XVIII).
[3.] Assuming the Law of Nature is not overridden or displaced within a particular State by the Civil Law (II. II. V).
2. Hans W. Blom, "Liberty and the Law" [Posted: March 7, 2014]↩
Fernando Tesón reminds us of the crucial importance of the distinction between the law of nature and the law of nations when it comes to the cause of liberty in the modern world. I agree with most of what Fernando has written on Grotius's natural law, yet I would put some emphases different, and propose a divergent reading of Grotius. I believe that by constructing Grotius as a proponent of a deliberative theory of justice we can better understand both Grotius himself as well as the great impact he enjoyed in the 17th and 18th century.
Fernando has proposed four main theses: 1) the law of nations makes the law of nature impotent, partly through a mechanism provided by the law of nature itself: pacta sunt servanda; 2) the right of resistance against the government, which is denied citizens because resistance would dissolve the state, is only allowed in extreme necessity; 3) warfare is to be humanized, and the appeal is to monarchs (governments) to do what is morally recommendable (the decorum); 4) private property might be the foundation for constitutional rights.
Let us start with the right of resistance. In the chapter from The Rights of War and Peace (1625) that deals with war of citizens against their government, we find an intriguing sentence:
The praetor renders justice, even when he pronounces an unjust sentence [IPB I.4.3 (p. 344)].
The ambivalent use of "just" here suggests that the social function of rendering justice does not necessarily agree with everyone's idea of what is just. Yet it renders justice because this praetor was the Roman official to whom citizens would bring their complaints against fellow citizens in order to resolve their disagreements. Precisely in negotiating divergent ideas of what is just in a particular case the rendering of justice consists. Four actiones, or legal remedies, could be sought from the praetor: concerning property, debt, recompense for incurred injury, and punishment. For Grotius this represents justice in its core sense. And he then postulates what will be central in his law of war and peace: 
Now, as many Sources as there are of judicial Actions, so many Causes may there be of War. For where the Methods of Justice cease, War begins. Now in Law there are Actions for Injuries not yet done, or for those already committed. For the First, When Securities are demanded against a Person that has threatened an Injury, or for the indemnifying of a Loss that is apprehended; and other Things included in the Decrees of the superior Judge, which prohibited any Violence. For the Second, that Reparation may be made, or Punishment inflicted; two Sources of Obligation, which Plato, and before him Homer, have judiciously distinguished. As for Reparation, it belongs to what is or was properly our own, from whence real and some personal Actions do arise, or to what is properly our due, either by Contract, by Default, or by Law. To which also we may refer those Things which are said to be due by a  Sort of Contract, or a Sort of Default: From which Heads all other personal Actions are derived. The Punishment of the Injury produces Indictments and publick Judgments. [The Rights of War and Peace, II.1.2.1 (p. 394-6).]
By property Grotius naturally meant: life, liberty, and estate:
The Right which a Man has to his own, which contains 1. Power over ourselves, which is termed Liberty. 2. Property, which is either compleat or imperfect. 3. The Faculty of demanding what is due. [ (I.1.5 (p. 138-9): ius, sub quo continentur Potestas, tum in se (libertas), tum in alios, Dominium plenum sive minus pleno (usufructus, creditum). The English translation is rather free.]
Thus, justice is that which the praetor as the representative of the society provides, and war is the continuation of defending our claims in the absence of justice. But then what is a civil war? It is either a war among individuals, after the state has been dissolved, or it is a war between civil society and the political incumbents. The first case is well-known from Hobbes; the second case from Locke. Dutch followers of Grotius would argue that violent resistance against an incumbent who trespasses people's constitutional rights (and thus in older parlance becomes a tyrant) is allowed, because this incumbent has become an enemy of the citizens. That is to say: either the government provides justice (even if by an unjust sentence) and thus cannot be attacked, or it stops providing that justice and becomes a private enemy. One might say that Grotius distinguishes – like Albert Hirschmann – "voice" and "exit."
The Rights of War and Peace is mainly about war, and war is connected to justice by at least two strands: 1) the good of humanity and 2) the laws of war. Therefore both the law of nature and the law of nations apply to warfare. Hobbes and Pufendorf have famously argued that there is no law of nations in international law: each sovereign nation pursues its own interests on the authority of the law of nature. Grotius apparently doesn't share that point of view. He sees – like an anthropologist – customs, practices, and regulations among (most, or the most advanced) nations, partly in the form of treaties, partly in the form of agreement among jurists: the water in wells ought not to be poisoned, ambassadors should be granted safe-conduct, etc. It is true that some of these customs are hair-raising: killing, robbing, and destroying was already prominent in the Old Testament, and hasn't stopped since. Yet one might also try to find ways to escape the fate of war, by pursuing one's rightful claims by legal means, and attempting when warfare is unavoidable to promote the common values of humanity that are shared among the nations. This is the famous Grotian Quest that went into the founding ideology of the Peace Palace in The Hague.
Notwithstanding this, Grotius was a political realist, who agreed with Machiavelli that it is more important to describe politics as it is than to build a Utopia in the air. There is a strong element of reason of state in his writings in general, and in an intriguing way, in his natural law as well. The justice that is central to his concept of sociability and that of war is a minimal justice of property rights, but otherwise politics, including the civil laws that politicians legislate, is about utility.
So it might happen that a government decrees that landed property can only belong to the nobility, as it was in Poland and in Brandenburg in the times of Grotius. Such a ruling does not prevent justice from being applied, even while it is unfortunate for the merchant or the farmer in such a country. Grotius would be the first to point out that such a ruling is also very disadvantageous to the well-being of the state, since it will lower agricultural production and chase away tradesmen and other commercial entrepreneurs. Since without a system of justice a state cannot exist, it is in the interest of that state to have a praetorial arrangement, with a concomitant interest in perfecting its system of justice as much as it can. The constitution of the state is the outcome of a historical process of adaptation, in which former agreements are replaced by new interpretations and arguments allow new agreements to arise. The great variety of constitutional forms in his days was ample proof of this historicity of the state. Consequently, Grotius makes the "more advanced nations" the benchmark for the contents of the law of nations, which in this respect is a kind of "secondary law of nature." As such, this law of nations must be considered to be the "primary law of nations," while the "secondary law of nations" is the purely volitional part of the law of nations. Pufendorf considered this distinction utterly unhelpful, for the good reason that if one considers all laws to express the will of their lawgiver (whether that is God or the sovereign), there is no place for intellectual exercises like the "consensus omnium." the considered opinion of the wise.  And that is precisely what a deliberative theory of justice would propose: institutions for public reasoning that allow agreements to appear. Agreements are the hallmark of truth, and to stand by one's truth is an expression of character.
But in the end, for Grotius there is no objective value, and everyone is the interpreter of his own interests, values, and preferences. It is on that basis that the praetor/judge is essential in any social form as the point at which to negotiate these interests, values, and preferences. It is for this reason that man has ratio and oratio, reason and speech, the two instruments for social deliberation.
God created man autexousion, "free and sui iuris," so that the actions of each individual and the use of his possessions were made subject not to another's will but to his own.… For what is that well-known concept, "natural liberty," other than the power of the individual to act in accordance with his own will? [Commentary on the Law of Prize and Booty (1604-5), II (p. 33-34)]
There has been something like an ideological war among natural law thinkers in the 17th and 18th centuries – to some extent replicated in present-day histories of natural law – and Grotius has been called as a witness on practically all of the contentious points. Consequently we have many different Grotiuses: Grotius the absolutist, according to Rousseau; the liberal (Adam Smith); the confused thinker (Pufendorf), and so on. Grotius's natural law equally shows this capacity for multi-interpretability: the last of the Scholastics (Peter Haggenmacher), the first modern (Richard Tuck), or something in between (Annabel Brett). Grotius for sure is himself at least partly responsible since he likes to overargue his case by giving multiple arguments from different philosophical backgrounds (Aristotle, Plato, Stoics, Epicureans, and Skeptics) and from different literary sources (Bible, poets, classical philosophers , Scholastics). Look at how he describes the law of nature. It is "not those written laws, indeed, but the immutable laws of Heaven" (IPC, I, p. 16).  "Baldus, who has wisely ruled that in any controversy arising between claimants of sovereign power the sole judge is natural reason, the arbiter of good and evil." The laws of nature are ordained by God, but through his creation; they are discovered by the joint intelligence of mankind (the consent of all nations). Moreover, the distinction between the primary and secondary law of nature doesn't help to clarify. And the law of nature can be known a priori and a posteriori. Grotius clearly misses an awareness of the issues that will become crucial for his successors in natural law.
Yet there is method in this madness. Grotius has a habit of using unlikely candidates to speak in his support. In the Commentary, e.g., Grotius quotes Aristotle to support his notion of subjective rights against the Aristotelian conception of objective value. This type of forensic rhetoric has irritated his more philosophically minded readers, yet it should not distract one from seeing how effective Grotius was with this strategy. He inescapably introduced a legal and political individualism into the intellectual mindset of Protestant countries, together with a reworked cosmopolitanism meant to overcome the disastrous effects of reason-of-state politics. This legal and political individualism was considered to be central to the commercial success of the Dutch Republic, and thus permeated social and political thought all over Europe, sometimes in a more authoritarian fashion (Hobbes, Pufendorf, Rousseau), sometimes in a more libertarian fashion (Locke, Smith). Theologians wrestled with jurists, political thinkers with historians, and grand schemes of natural law took the place of Grotius's attempts in the early 17th century to salvage justice from European warfare. But his success was more solid as it had become almost invisible.
3. Paul Carrese, "The Moderation of Grotius" [Posted: March 9, 2014]↩
Fernando Tesón's fine essay on Grotius is provocative on several points.  My response explores his criticisms of the great jurist's effort to propound a philosophy of international law.  I will seek to question his verdict on Grotius through recourse to another jurist-turned-philosopher, Charles de Montesquieu.  Grotius seems less confused, his philosophy of international right less perplexing and contradictory, if we read his On The Rights of War and Peace (1625) in the spirit of a jurist who seeks not abstract philosophical clarity, but an attractive argument likely to reduce the incidence of conflict – and ameliorate those wars that do occur – by bringing principles of law, thus restraint, into this prevalent mode of human affairs.  Grotius's complex mode of jurisprudence and philosophy deeply influenced Montesquieu's efforts, a century later in On the Spirit of Laws (1748), to propound a philosophy of international right that declared principles of right to govern war, to promote peace and commerce, and thus to support the conditions for individual and political liberty.  These jurists in turn deeply influenced the American founders in their effort, during the 1780s and 1790s, to construct a constitutional order and distinctive American grand strategy that would permit war only as part of a larger philosophy of peace, international order, protection of individual rights, and commerce.  These are extraordinary achievements in human civilization, and it was this more complex or seeming paradoxical mode of philosophy that helped statesmen to promote liberty and civility.  
We should praise the lawyers – Hugo De Groot (Grotius) and Montesquieu, not to mention Professor Tesón – for their contributions to reorienting politics away from glory and conquest toward peaceful pursuits of individual rights, individual and communal happiness, and peaceful prosperity.  We tend to take this for granted in the 21st-century world, since many of us hardly remember a time without a global order of liberal commerce and great-power peace.  Moreover, my fellow academics tend to favor the more radical voices in philosophy who announce bright-line doctrines and novel systems, overlooking more moderate intellects who propose complex and balanced philosophies that straddle schools and offer fewer doctrines.  If one extends the Enlightenment to include Grotius, then he and certainly Montesquieu exemplify the moderate Enlightenment – keen to consider the claims of modern philosophers for propounding radically new understandings of reality, truth, and right, but just as keen to temper those claims through awareness of the insights of classical and medieval thought that could not be discarded without impairing our understanding of human nature and political reality. 
Tesón gives credit to Grotius's effort to restrict the definition of justifiable war, as being "quite visionary" and as prefiguring "the international law developments of the late 20th century," but insists nonetheless that these achievements rest on an "inaccurate" view of the law of nations.  Indeed, the jurist's philosophical method is "messy" and "unsatisfying," given its seemingly contradictory statements on the degree to which natural law governs the law of nations.  At other moments, however, Tesón appreciates Grotius's achievement more in the spirit in which it was intended, understanding that for Grotius the natural law is (in Tesón's apt phrase) "a complicated moral system" in its relation to human practice, especially that of war and peace between nations.  He notes that Grotius's work was "intended for princes" rather than pure scholarly reflection, a decision that "should be commended, not criticized."  Indeed, Richard Tuck's introduction to the splendid Liberty Fund edition of The Rights of War and Peace remarks on the work's widespread influence, reaching beyond scholars to statesmen – noting that "General Washington, like most well-educated English gentlemen, possessed a copy" (Tuck, "Introduction," xi).  This is the better part of Tesón's argument, suggesting that Grotius's complicated, seemingly contradictory analyses of natural law and the law of nations accurately capture the reality of war, peace, and international affairs in a way likely to pull its leading actors toward moderating and ameliorating both thought and action, all with the aim of setting a more humane standard for political conduct.
Montesquieu does not often cite by name the great jurists of international law such as Pufendorf or Grotius in his own influential work, The Spirit of Laws, but his private notes (the Pensées, translated by Henry Clark in a Liberty Fund edition) reveal that he was inspired by the erudition of Grotius.  While drafting Spirit of Laws he wrote:  "I give thanks to Messrs. Grotius and Pufendorf for having so well executed what a part of this work demanded of me, with that loftiness of genius which I would not have been able to attain."[4]  Montesquieu in turn was the single most important influence on the drafting of the American Constitution and Bill of Rights, rivaled only by one of his protégés, Blackstone.  Moreover, it is telling that voices of the moderate Enlightenment such as Grotius, Blackstone, and Montesquieu are cited throughout The Federalist, but more radical, analytically pure voices such as Hobbes and Locke are not invoked.[5]   If Washington, in his Farewell Address (1796), argued that America's strategy should be to balance consideration of its interests with the strict guidance of universal principles of justice – and therefore avoid being entangled in Europe's great power politics while also engaging in international commerce and undertaking temporary alliances as needed – then both Washington and his advisers were echoing the balanced philosophy of international affairs propounded by Grotius and refined by Montesquieu.
Grotius announces a philosophical stance of moderation – of avoiding intellectual and practical extremes in search of a truer, higher, middle ground – from the beginning of De Jure Belli ac Pacis.  He notes that the "monstrous barbarity" and "licentiousness" regarding war even among Christian nations induced some Christian thinkers to endorse pacifism; but this, he says, moves "too much to the opposite extreme."  His task is to find the golden mean, "as well to prevent believing that nothing, as that all things are lawful" in war (PD, secs. 29-30, 106-7; see Forde 1998, 639 and Zuckert 1994, 123, 343 n. 22).[6]   In a similar vein, Grotius defines human nature as oriented to society, but notes that society serves individual interest; and the same complex, balanced relation holds in the society of nations.  Just as an individual that violates domestic laws with a view to narrow self-interest "thereby saps the foundation of his own perpetual interest," so a nation that violates the common "reason" inherent in "the laws common to all nations" – found in "the laws of nature and nations" – merely "break[s] down the bulwarks of their future happiness and tranquility" (PD, sec. 19, 94-95).  This balance of self-interest and sociability, indicative of Grotius's philosophical moderation, informs his entire approach to the law of nations and its grounding in the law of nature. 
Grotius thus announces that a primary means to reducing conflict is to avoid giving grounds for conflict that might arise from strict claims about the linkage of the natural law and the law of nations.  Allowing so many "permissions" by which the law of nations suspends adherence to the law of nature "cuts off infinite disputes" in international affairs ( II.12.26, p. 766; see Forde 1998, 643).  Making strict adherence to natural law the standard for the law of nations "would be dangerous," for if a third state were to "pronounce on the justice" of a conflict between two other states, "that state might quickly be involved in a war with other people."  Because "even in a just war it is very hard to judge" what are the right means of ius in bello, "it is far better to leave it to the conscience of the persons engaged in war" to judge such matters and make their case (III.4.4, 1275-77; see also III.9.4, 1386; Forde 1998, 645).  This justification explains why Grotius turns in the last part of De Jure Belli ac Pacis to call for "moderation" regarding the grounds for war and its conduct.  He has prepared for this turn all along.  Beyond the effort to shame Christians in the broader arguments of the Preliminary Discourse and Book I, he invokes "the law of charity" repeatedly in the more detailed analyses of ius ad bellum and ius in bello.  Thus the law of nature might permit us to risk the death of innocents to ensure self-preservation, but "the law of charity … does not permit it" (II.1, p. 398; see also, e.g., III.2, p. 1243).  These occasional references become a refrain once Grotius thematically emphasizes in Book III the importance of moderating, thus elevating, the conduct of states above the minimum standards permitted by the law of nations.  Indeed, the law of love becomes the definition of "humane" conduct expected of civilized, dignified leaders and their peoples (e.g., III.13.4, 1478-79).
It is true that Montesquieu insists upon refining Grotius; the latter's argument for civility and humanity becomes, in The Spirit of Laws, a requirement of the right of nations.  A pillar of this right, or law, is "the law of natural enlightenment," which, says Montesquieu, "wants us to do to others what we would want to have done to us" – even in, or especially in, matters of war, security, and conquest (Montesquieu 1989, 10.3, p. 139).  Nonetheless, as Montesquieu noted, he could not have developed this argument – which taught America's constitutional founders such great respect for the law of nations and high standards of justice in international affairs – but for the genius of Grotius.
Endnotes
[4.] Montesquieu, My Thoughts, ed. and tr. Henry Clark (Liberty Fund, 2012); no. 1537, at pp. 441-42; see also no. 1863, at p. 556; both passages point to the closing remarks of the Preface to Spirit of Laws, as well as to the analysis of the right of nations in Book I, chapter 3 and Book X.  See also Tuck 1999: 184-87.
[5.] Publius invokes Grotius in no. 20 (Madison) and no. 84 (Hamilton); see Hamilton, Madison, Jay, The Federalist:  The Gideon Edition, ed. Carey and McClellan (Liberty Fund, 2001), pp. 96-97, 449.  On Montesquieu's influence, see Donald Lutz, "The Relative Influence of European Writers on Late Eighteenth-Century American Political Thought," American Political Science Review vol. 78 (1984): 189-97.  Moderation is explicitly invoked as an intellectual and political virtue in the opening and closing essays of The Federalist (no. 1, p. 2; no. 85, p. 453).
[6.] All references are to Hugo Grotius, The Rights of War and Peace, 3 vol., edited by Richard Tuck (Liberty Fund, 2005). Following custom, the references are to the Preliminary Discourse (PD) or Book, as the case may be, chapter, section, and page.
THE CONVERSATION↩
1. Fernando R. Tesón, "Was Grotius Just an Advocate?" [Posted: March 11, 2014]↩
The excellent comments by Eric Mack, Hans Blom, and Paul Carrese have taught me a number of interesting things about Grotius and, in passing, have shown how little I know about this intriguing figure. I have no obvious counterpunch, and, like Eric, I suspect that the suggested readings are at least as good as mine, and probably better.
So I will confine myself to a few general remarks. I must confess from the outset that I am one of those who, in the words of Paul Carrese, prefer analytical purity to political moderation. This is in great part adaptive behavior, because I am a bad historian and not particularly good at contextual analyses of philosophical argument.  I learned a lot from Hans Blom's skillful location of Grotius's in the contemporary and modern literature. I was likewise marveled at Paul Carrese's account of Grotius's influence on the founders of this republic.  And I particularly liked Eric Mack's radical hypothesis that Grotius was inviting us to jettison the Law of Nations. The comments demonstrate conclusively, if there was any need, Grotius's historical influence on both the politics and the philosophy of the day. 
Having said this, I'm afraid I'll stand by my criticism of Grotius's jurisprudential method. Put succinctly, his arguments are not very good. I mean his arguments, not his conclusions. I concur with Paul that De Jure is a manifesto for moderation, and I particularly like Eric's and Hans's suggestion that Grotius is, in different ways, a forerunner of modern liberal thought.  But nothing I read from them has addressed to my satisfaction the conceptual problems that afflict De Jure.
The first and less serious problem, not to repeat myself, is the somewhat arbitrary presentation of the Law of Nations, of international custom. Grotius would not have passed my international law course by quoting Seneca, Tacitus, and Carneades.  One would have expected a leading jurist and diplomat to enlighten us about the international practices of his time.  
But the more serious problem is that his jurisprudential method fails to explain how moral truths bear on legal propositions. Being a natural lawyer is a tough way to make a living. Positivists have it easy: they simply point to social facts (laws, treaties, and custom) and say that they determine the content of legal propositions. But as soon as you summon the Law of Nature you must specify what exactly is a natural-law argument and how you think it treats the social facts of human law. St. Thomas Aquinas and Ronald Dworkin are two illustrious examples of efforts in that direction. But Grotius wavers between one and the other (sometimes, I fear, according to convenience) and in doing so he becomes vulnerable to the charge of arbitrariness. It is not a coincidence that writers see Grotius so differently, as Hans Blom reminds us. Positivists claim Grotius as one of their own because of his vindication of the Law of Nations as binding notwithstanding its demonstrable injustice. Natural lawyers also enlist him in their ranks because of his vindication of the Law of Nature in the Preliminary Discourse and elsewhere. But in my judgment Grotius did not present an intellectually satisfying integrated view, that is, a view that would calibrate the positivist and nonpositivist strands in his argument.
Paul Carrese is absolutely right: Grotius eschews intellectual purity in favor of what works, what can persuade people. I will be the last to deny the importance of advocacy, but an argument's historical importance or political success does not speak to its truth or quality. Advocacy, I would suggest, is a failure of political discourse, because its aim is to persuade and not to seek the truth. Was Grotius just an advocate? This is surely too harsh: keener minds than mine, including my commentators, have rendered a favorable verdict. But this does not relieve us from subjecting Grotius's arguments to probing scrutiny. If we like his moderate views, we would want them to prevail in the realm of ideas, and not just in the messy arena of international politics.
2. Eric Mack, "Grotius on the Right of Resistance" [Posted: March 13, 2014]↩
Both Fernando and Hans discuss briefly Grotius's doctrine concerning a subject's forcible resistance against his own sovereign.  I want to return to this topic briefly because it provides another occasion on which Grotius seems to take a strongly illiberal and authoritarian stance and yet subsequently reverses that stance.  Is this confusion on Grotius's part?  Is it moderation?  Is it the inherently anti-authoritarian logic of his normative premises reasserting themselves?  I, of course, would like to believe it is the third of these.
The question that is initially at hand is whether subjects may act against their sovereign when "the civil Powers command any Thing contrary to the Law of Nature or the Commands of God…" (I. IV. I, 337).  Grotius's immediate response is that subjects may decline to obey such commands.  However, they may not forcibly resist any injury that the civil power sets out to inflict on them in response.  Rather than resist at this point, Grotius says that the subject who has declined to obey the command of the sovereign must patiently submit to the sovereign's injurious response.  "But if for this, or any other cause, an Injury be done us by the Will of our Sovereign, we ought rather to bear it patiently than to resist by Force" (I. IV.I, 338).  (It is significant that Grotius says "injury" here, for, since an "injury" is a wrongful or unjust harm, Grotius is saying that subjects may not resist even though the civil power's response is wrongful or unjust.)
Grotius proceeds to give a type of social-contract account for this obligation of nonresistance.  All men begin with "… a Right to secure themselves from Injuries by Resistance…."  But the establishment of the state requires that "the State has a Power to prohibit the unlimited Use of that Right…."  Indeed, the state could not exist if "that promiscuous Right of Resistance" continued to exist (I. IV. II, 338).  Grotius then solidifies the conclusion that resistance against even unjust harm by the sovereign is always unacceptable by assuming that even the limited use of a nonpromiscuous right of resistance must have been surrendered in the establishment of the state.
However, as we move forward in this chapter, we get a striking reversal.  Grotius tells us that "A more difficult Question is, whether the Law of Non-resistance obliges us in the most extreme and inevitable Danger."  After all, even "some of the Laws of GOD, however general they be, seem to admit of tacit Exceptions in Cases of extreme Necessity…" (I. IV. VII, 356).  And now Grotius tells us that, although those who enter into civil society give up their unlimited (promiscuous) right to resist injuries at the hands of others, they are most plausibly understood as retaining a limited (discriminating) right to resist injuries.
Suppose [those entering society] had been asked, Whether they pretended to impose on all Citizens the hard Necessity of dying, rather than to take up Arms in any Case, to defend themselves against the higher Powers; I do not know whether they would have answered in the affirmative.  It may be presumed, on the contrary, they would have declared that one ought not to bear with every Thing, unless the Resistance would infallibly occasion great Disturbance in the State, or prove the Destruction of many Innocents. [I. IV. VII, 358]
Grotius immediately considers the thought that, if not by contract, at least by "Divine Law," subjects have a "rigorous Obligation to suffer death rather than at any Time to resist an Injury offered by the Civil Powers"  – and he rejects this thought as well.  Moreover, if I read him correctly, he goes on to say that it is even permissible for a small number of individuals – a small part of society – to forcibly resist such injuries.  Wonderfully, Grotius invokes here the very Barclay – "the stoutest Assertor of Regal Power" – whom Locke later describes as "that great assertor of the power and sacredness of kings" (Second Treatise, §232) and invokes on behalf of resistance.
… I dare not condemn indifferently all private Persons, or a small Part of the People, who finding themselves reduced to the last Extremity, have made use of the only Remedy left them, in such a Manner as they have not neglected in the mean Time to take care, as far as they were able, of the publick Good. [I. IV. VII, 358]
3. Paul Carrese, "Grotius and Philosophical Moderation" [Posted: March 18, 2014]↩
Fernando Tesón's response interprets my view of Grotius as suggesting that the project of De Jure Belli ac Pacis was practical advocacy – seeking to prevent war, or meliorate its horrors – rather than a search for the truth of human affairs.  If I gave that impression, that Grotius had chosen efficacy in the messy political world against understanding the truth about politics, then the error is mine.  I should clarify my view that Grotius saw himself as within the broad Aristotelian tradition of political and moral philosophy, and thus of jurisprudence, in which truth is defined as an understanding that discerns how to practically improve human affairs so that we can better achieve the aims of our nature.  I do not mean to deny, in advancing this view, that Grotius is a liberal and a modern.  Apart from my trepidation at the prospect that Eric Mack and Hans Blom would pounce upon any such suggestion, I tried in my first response to indicate that Grotius – like his progeny Montesquieu and Blackstone – was an intentionally moderate sort of modern, liberal mind.  This strain in the moderate Enlightenment sought to retain or revive elements of classical and medieval thought that would achieve the humane aims of modernity and liberalism more adequately than had the radical philosophies that repudiated the philosophical tradition to a substantial degree.  That repudiation was undertaken both in the name of human progress and in the name of analytical clarity.
When I averred that Grotius as a jurist and philosopher sought "not abstract philosophical clarity" but rather principles that would be likely to meliorate and humanize international affairs, I should have clarified immediately that Grotius did not see this as a binary choice between truth and efficacy.  I did state, perhaps too late, that for Grotius a proper moral-political philosophy would balance the insights of several philosophical schools rather than adhering to strict doctrines of analytical clarity.  This is because, for Grotius, the aim of such philosophy is to accurately capture the reality of war, peace, and international affairs.  I did add that Grotius thought accuracy also would be likely to pull leading actors toward moderating and meliorating thought and action; but I should have clarified that this harmony of truth and humane efficacy is a product of Grotius's kind of soft teleology about human affairs. 
As Eric Mack noted in his first response essay, Grotius adopts those elements of classical and medieval philosophy that define human nature as both oriented to sociability and interested in individual advantage. (I had cited PD, sec. 19, 94-95; see also, e.g., I.I.III-IV, 136-38, and II.II.XIII, 443-44.)  Unlike Aristotle or Aquinas (to pick two philosophers holding this balanced, complex view of our nature), Grotius seems more to emphasize elements of individual liberty and property rights, and he emphasizes that our natural aim is social harmony, not political order per se.  It is no accident that Aristotle and Aquinas, given their view of a complex human nature, defend private property, but nonetheless each holds that we are oriented to political union.  This view tends to place priority on the political over the social, and thus gives less scope for individual liberty (although, Aquinas might be said to be a bridge from Aristotle to the modern, liberal views of Grotius, given that Aquinas defines our nature as being both social and political). 
My point was that Grotius's view of a complex or balanced or moderate human nature – avoiding the opposing extremes of an asocial nature or a fully political nature – fit with a larger jurisprudence that sought to avoid the opposing extremes of pacifism or Machiavellism about war, peace, and international affairs.  A proper conception of natural law, and of how it guides any positive law (including the law of nations in all its senses), would see the truth as helping us to achieve the aims of our nature.  Grotius thus perpetuates Aristotle's view that any science of human affairs (primarily ethics or political science, but also jurisprudence) should strive to attain only the clarity that accords with the subject matter, and therefore a philosopher should not seek the same level of precision in all arguments (Nicomachean Ethics, Book I, ch. 3, 1094b12-28).  Indeed, Aristotle closes the Ethics by calling for a new discipline, political science, because in the practical human sciences it's not good enough to achieve philosophical clarity in the abstract; one's clarity has to be an achievable, practical standard both for individuals and political communities (Ethics, Book X, ch. 9, 1179a33ff).
Perhaps what is missing from Grotius is a theoretical or conceptual statement of this philosophical moderation, i.e., avoiding either skepticism or a false analytical clarity; also missing is a clearer conceptual statement (of the sort Tesón seeks) of how he integrates his accounts of positive law (customary law of nations) and natural law (with its normative requirements).  My own view is that if we adopt the Aristotelian conception of appropriate philosophical clarity, we at least can find such statements in Grotius's work. (I had cited a few such moments.)  His general project seeks a middle path between, on the one hand, a moralism that aims too high for human nature and human affairs and either is dismissed as impossible or unintentionally causes more harm than good, and on the other an immoral or amoral positivism regarding law and politics.
I had cited some passages from Michael Zuckert's analysis of Grotius, in which he finds moderation to be a central theme, but I close with a more specific conception of Grotius's philosophical moderation that captures my point:  in Zuckert's view, "the deepest thrust of Grotius's thought" is to move toward "both a very determinate and specific standard of right, a standard beyond the vicissitudes of religious and political controversy, and an effective standard, one that can stand up to the sneers of the Machiavellis of the world, who say that the natural law is 'weak and unarmed'" (Zuckert 1994, p. 148, emphasis added).  Grotius may not meet his own standard; it may be that another conception (more analytically pure) has a better standard of truth; still, it is important to discuss which standard we are using to judge Grotius's efforts.
4. Hans W. Blom, "Ius Gentium, the Law of Nations, and the Law of Nature at the Birth of Liberalism" [Posted: March 18, 2014]↩
Fernando Tesón rightly insists on a distinction that is part and parcel of modern international law: that between positivism and natural jurisprudence. I say rightly, because it is on these dimensions that modern international law developed. The question is: what has it to do with Grotius? And another: what with liberalism?
The old distinction in Roman law was between ius civile and ius gentium, respectively, the law that applies to citizens of Rome and that which applies to all people indistinctively. For the practice of Roman imperialism, this was a useful distinction, no doubt, but it had nothing to do with international law: the normative cadre of Roman imperialism had its origins in the legal concepts of Roman ius civile. Thus part of the problem is the equivocal expression ius gentium, meaning both that law that is shared by all peoples and (yet only from somewhere around the 17th and 18th centuries) the law that holds between nations. For example, when in 1672 Samuel Pufendorf titled his magnum opus De iure naturae et gentium (On the Law of Nature and Nations) he made it a point of principle to identify the two, criticizing Grotius for failing to do so. About international law Pufendorf had preciously little to say, i.e., because he strongly believed that nations were in a state of nature relative to each other, and thus considered the law of nature sufficient as a normative context. Whatever Grotius and Pufendorf were discussing, it was not the status of international law, but the law of nature.
Now if we agree with Hayek (Law, Legislation, and Liberty: A New Statement of the Liberal Principles of Justice and Political Economy, vol. 2 The Mirage of Social Justice [University of Chicago Press, 1976], p. 59.) that the term natural law "ought to be avoided," then we might want to know what other term to use: human rights? (global) justice? (international) law? The choice is somewhat arbitrary since each of these has good claims to being the heir of natural law. I will opt for the human-rights/global-justice pair, also because historians of international law are canvassing the effects in their field (e.g., Martti Koskiennemi). That Grotius is relevant to human rights seems obvious, and to the second concept as well, if we accept the following definition:
Global public reason is a standpoint "from which positions are to be justified by way of giving reasons people of different moral or political backgrounds could accept." [Mathias Risse, On Global Justice (Princeton: Princeton University Press, 2012), p. 94.]
And this is in the spirit of Grotius, who understood natural law indeed to be a set of normative principles that are valid independent of religious or political preferences. Hayek for good reasons questions the very idea of immutable principles – both the immutability and the principledness, evidently – and I would suggest that it makes best sense of Grotius to see him lean in that direction too.
This issue of global public reason is best developed by drawing attention to a topic very central to Grotius, viz., consensus, that we might translate as agreement, shared judgment, or consent, depending on the precise context. The term is first introduced in his major conjuring trick, by which he removed God from the equation. Natural law, he says, are the moral principles pertinent to man, and naturally these depend on God the Creator of the world. In order to know these principles, however, Grotius does not point towards our religious understanding of God, but to our own understanding of our own nature, as created by God. Our moral principles are those that belong to our nature, and we have to study our own nature in order to find out. German theologians in the 17th and 18th centuries called this derogatorily "naturalism," as if it was a way of handing over moral responsibility to naked nature. But that was not the case: in order to find out the nature of man and its moral implications, we need to study, and as Alexander Pope said so famously: 'The proper study of mankind is man."  And the hallmark of good results is that they can command agreement among the researchers: consensus. As we all know, such a consensus sometimes is a travesty, because based on "political correctness," on brutal power even, or ideological bias, sometimes on ignorance of true causes. So in the end, "consensus" is a process concept; it has to be amended and corrected; consensus thrives by dissension and debate. Grotius, e.g., points at consensus when showing that his core notion of self-defense is recognized by all philosophical currents, including the Skeptics. (Part of his eclecticism has to do with the importance of consensus in natural-law argument.)
Why do we want to know the moral principles belonging to man? Grotius's answer was that moral principles that mankind can universally agree on allow us to end and/or prevent wars, since wars are only justified in case of a lesion of these principles. This argument is circular, evidently, but the circle is sufficiently large to make it worthwhile.
It is different with other agreements. People(s) can agree on many things: on religious obligations, on political obligations, on manifest destinies or tax regimes, on international alliances or trade agreements. All these agreements have the force of law implied in their respective agreements, and it is a separate intellectual and/or political game to sort out the precise implications of such arrangements.
The effort to find out what moral principles are inherent in man's nature is thus based on consensus, on reasons acceptable to all concerned. And here is the great difference with consent. When I consent to something, I am considered obligated because of the act of consenting. But when I agree to a reason, it is not the act of agreeing that has moral force on me, but the content of the reason.
If I agree to become a slave (because I have good grounds to fear that I otherwise might be killed), then I engage in a legal form that is dictated by the polity I live in. In the times of Hobbes (who elaborated on this example from Grotius), slavery was accepted in many parts of the world. (See the discussion between John Cairns and Gustaaf van Nifterik in Grotiana vol. 22/23, 2001-2002, pp. 197-244.) Although one may doubt whether slavery conforms to the moral principles inherent in mankind, there was at that time no consensus that it did not. Besides, in the Grotian example the voluntary slaves are those taken prisoner in a just war and who have forfeited their property and life by unjust warfare. It is the Nuremberg Tribunal version of natural law, not the war of all against all of Hobbes.
But no doubt later, "more advanced" ages have seen new consensus on reasons grow, and the direction of these new developments are in interesting ways in line with Grotian ideas.
In John Rawls's The Law of Peoples (Cambridge, Mass.: Harvard University Press, 1999), we find an important attempt to develop a consensus based universal set of moral principles. Mathias Risse's On Global Justice is a more recent elaboration of a similar set-up. Interestingly, Risse takes recourse to Grotius throughout the book, claiming that especially in the concept of the earth as the common property of mankind, and in the way in which Grotius developed private property out of it, we find ingredients for global public reason. And thus it is all about liberalism as well, especially as it turns out that the basic ingredients that go into the equation are property and trade.
5. Paul Carrese, "The Radical Grotius Hypothesis: Why Not a Philosophical Middle Ground?" [Posted: March 19, 2014]↩
Erick Mack's reply to Fernando Tesón's initial essay finds the two in agreement about a conflict in De Jure Belli ac Pacis – namely, that Grotius does not adequately explain how to harmonize his conceptions of natural law and the law of nations.  They further agree that the better philosophical and jurisprudential element in Grotius is the natural law, the higher normative standards for war and peace.  Mack then proposes a hypothesis, admittedly "radical" and "wild," that Grotius intended to heighten the tension between these two kinds of law so that we would be compelled to jettison the customary law of nations given the moral and philosophical superiority of the law of nature.  I learned from, and agree with, nearly all of Mack's analysis of the Grotian conceptions of the laws of nature and of nations, and of the rights of peace and war.  However, rather than finding in Grotius an irreconcilable conflict in these pairs – such that he ultimately seeks to discard the law of nations and rights of war in favor of the rights of peace that accord with the law of nature – I again suggest that the Grotian philosophy seeks a sound middle ground between extremes.  It is possible that he seeks a balance or blend of views on the complicated relation between these kinds of law, especially given the analogous senses of "the law of nations" that he employs.
One issue is whether Grotius strictly defines the law of nations as only positive or customary law, as Mack contends, and therefore whether the law of nations exists only in contrast with, or contradiction to, the law of nature.  I reply that for Grotius "the law of nations" is polyvalent.  One sense is, as Mack argues, a positive law that is not derived from nature – the law of nations as "voluntary" or customary law.  Mack cites the Preliminary Discourse defining the customary law that nations adopt "by common consent."  Still, the phrasing is careful: this "is called the Law of Nations, when used in distinction to the Law of Nature" (PD XVIII, 94, emphasis added; see also II.VIII.I, 634).  Grotius leaves room here for a secondary sense of the law of nations, one not so opposed to the law of nature.  Indeed, the next section suggests that the law of nations reflects the law of nature, which aims at the happiness or fulfillment of our nature.  States that violate the law of nations undermine their own good, since the law of nations manifests the natural law:  "So that people which violate the Laws of Nature and Nations, break down the bulwarks of their future happiness and tranquility," since violating these related, mutually reinforcing laws is acting contrary to "the impulse and direction of our own nature" (PD XIX, 94-95).  Shortly thereafter Grotius insists that this intrinsic relation between the kinds of law entails that "the society of mankind, or of several nations" requires conduct according to principles of "right" and standards of "just or unjust"  (PD, XXIV, 98-99, including note 3).  He cites both Aristotle and Cicero, but emphatically endorses Cicero on moderation or modesty (temperantia) in human affairs.  That "great orator and philosopher" insists that we must never forsake moderation and the higher requirements of natural law for its lowest requirement of self-preservation, since (quoting Cicero), "there are some things so shameful and criminal, that a wise man will not do them even for the preservation of his country."
Mack admits that Grotius uses "laws of nature" as polyvalent, with a focal sense and then (as Mack writes) "an extended and less proper sense." (Mack also cites III.X.1, 1414, on the polyvalence of "law.")  In Grotius's deployment of "the law of nations," some passages emphasize the distinction between the two kinds of law (e.g., PD XLI, 112) – with natural law meaning inferences drawn from nature, while the law of nations derives from universal consent.  Elsewhere he discusses "the right of nations" as considered to be derived from the right of nature (I.I.XIV, 163).  Still elsewhere the law of nations merges with the law of nature:  "By the law of nature then, which may also be called the law of nations, it is plain, that every kind of war is not to be condemned" (I.II.IV, 189).
Upon this basis, I will recapitulate the moderate hypothesis by suggesting that Grotius's emphasis in Book III of De Jure Belli ac Pacis on moderating and elevating the law of nations – so as to bring it up to the standards of the law of nature, justice, equity, and the Christian law of love (III.X and following) – is not so remarkable or extraordinary a turn.  Throughout the three books he has noticed, and condemned, the gap between the customary law of nations and the law of nature regarding both ius ad bellum and ius in bello.  This also is, for him, a gap between customary law of nations and the more legitimate law of nations grounded in or derived from nature (and thus from justice, equity, and the virtues both strictly rational and Christian).  He seeks to close that gap.  Mack argues that Grotius does so by jettisoning the law of nations with its rights of war, then building a new conception of "the rights of peace" on the proper law of nature.  That would seem to turn Grotius in a pacifist, even Kantian direction that doesn't comport with the complexity and balance of his philosophy. 
That said, the complexity of Grotius's analysis, and of his ultimate effort to push the law of nations in a truer and more natural direction, leads us to these interpretative difficulties.  He seeks to persuade elites in the Christian nations, and in nations seeking to be considered civilized, that legitimate reasons and laws must reflect not the minimal sense of the law of nations but the higher standard that pulls together the two laws, of nature and nations.  Perhaps he seeks to demonstrate his encyclopedic understanding of all the reasons – excuses – rulers have for following the lower path of war as injustice, in hopes that this provides him a credible basis for pulling them toward a higher conception of justified, and more limited, war.  Recent events remind us that rulers and diplomats can claim to abide by international law, and principles of democratic consent, while merely citing such scripture for brutal purposes.  Grotius alerts us to the distinction, but in a way that retains a credible or realistic awareness of the presence of brute power in international affairs.
6. Eric Mack, "Another Shot at the Law of Nations" [Posted: March 20, 2014]↩
Paul discusses and critiques my radical and wild hypothesis – that Grotius's real message is that we should jettison the law of nations and place our hopes on the law of nature – with marvelous scholarly delicacy.  Someday, when I grow up, I'd like to achieve a slither of that intellectual refinement. (But my hopes are very slim.) And, of course, Paul is correct to point out that Grotius gives different characterizations of the law of nations in different places; and that is a problem for my hypothesis. 
Moreover, there are particular moments in Grotius's discussion of the morality of conduct in warfare that do not fit my suggestion that, if anything, Grotius seeks to exaggerate the brutality of law-of-nations norms and the nonbrutality of the counterpart law-of-nature norms. For example, had Grotius been dead set on emphasizing the brutality of law-of-nation norms, he would not have paused to say that the law of nations precludes the ravishing of the enemy's women (III. IV. XIX.1).  I also believe there is one instance in which the law of nations is said by Grotius to be more restrictive of conduct in war than the law of nature.  But I have not been able to locate that instance in the text.
Still, the contrast between what Grotius says the law of nations allows in warfare and what he says the law of nature allows is very striking.  In case after case – e.g., the killing of bystanders, the killing of prisoners, the killing of those who have asked for quarter, the seizure of the property of the enemy's subjects or the property of those who happen to be in the enemy's territory, and so on – the law of nations is said to permit the conduct and the law of nature is said to prohibit it.  Equally striking is the fact that Grotius does not say, "Well, there is the law-of-nations teaching and there is the law-of-nature teaching.  We should attend seriously to both and (somehow) come up with stances that give each their considerable due weight."  Rather, at the beginning of his presentation of the law-of-nature teachings, he says that he must "take away from those that make War almost all the Rights, which I may seem to have granted them [under the law of nations]; which yet in Reality I have not" (III. X. I.1).  So I think I at least want to stick by the claim that Grotius is on the verge of calling for the jettisoning of the law of nations – where this is understood as a body of norms quite distinct from the law of nature.
I did offer, and I re-offer here, a supplementary hypothesis about why we find Grotius giving both law-of-nations and law-of-nature answers to questions about what is lawful in war.  That hypothesis is that he is engaged in both a positive account of the law and a normative account of the law.  I supported that account by citing Grotius's remark that there is a "double Meaning of the Word lawful, the one being taken for that which is really lawful in itself, the other for that which is only lawful externally" (III. X. I.3).  My thought is that Grotius is engaged in both this descriptive project and this normative project and that he is not clear enough in his own mind about the difference between these projects.
In his initial essay, Fernando criticizes Grotius for not presenting a report of the actually accepted norms of warfare of his time.  Presumably, the real law of nations for his time consisted in those actually accepted norms.  Were those actually generally accepted practices of Grotius's time less horrendous than what Grotius says is permissible under the law of nations?  I certainly do not know – albeit, Shakespeare's Henry V suggests less contemporary acceptance of the killing of prisoners than is found in Grotius's recounting of the law of nations. 
Why do I raise this historical question?  My reason is that, if the actual accepted norms of warfare of Grotius's time were less horrendous than the law-of-nations norms that he recounts, one might take that as evidence that Grotius was going out of his way to give a horrifying picture of the law of nations.
7. Paul Carrese, "Liberty and International Order: The Truth of the Law of Nature and the Primary Law of Nations" [Posted: March 26, 2014]↩
Hans Blom's two essays in this conversation argue, as only a renowned Grotius scholar could do, that Grotius is a quite modern thinker about natural law, justice, and war.  Blom also suggests that Grotius points toward postmodern conceptions of moral and political thought.  That is, if postmodernism means the rejection of nature and immutable truth as the grounds for moral and political principles, then Blom seems to read Grotius as a proto-postmodernist.  This interpretative issue has a direct bearing upon war, peace, and international security in our 21st-century world.  This is especially so given the recent demonstration that a great-power state bordering Europe has little regard for international norms about settled international borders, or the illegitimacy of aggressive or revanchist military force.  My practical claim is that if thinking about the law of nations is seen to rest only upon contemporary consensus, ever-revised – rather than resting upon the immutable ground of the law of nature – then international law loses much of its legitimacy and force.  This practical claim in turn rests on an academic one – that, pace Blom, Grotius is not a proto-postmodern, but instead is a modern natural-law jurist who searches for the ground of immutable truth that should guide international conduct.
Having staked the latter claim, I immediately will soften it.  In fact I think my view of Grotius is not diametrically opposed to Blom's.  Still, if we do disagree, I avail myself of Grotius:  when discussing the authority of Aristotle, Grotius echoes Aristotle's own view that we must respect great philosophical minds but depart from them if need be "for the sake of finding truth" (De Jure Belli, PD XLVI, 123).  Having cloaked myself with amicus Plato, I proceed to recklessly query a Grotius expert who offers two instructive contributions to our conversation.
Blom argues that Grotius propounds a "deliberative theory of justice" as a constructivist conception of right and law.  No individual or state has access to ground truth, so if we are to have peace and some kind of justice, we must work within institutions that establish "public reasoning."  These in turn allow peaceful arbitration and development of "agreements" on norms. (In his essay on the ius gentium, Blom emphasizes a contemporary "consensus" on "normative principles" as what Grotius means by natural law.)  Blom declares: "in the end, for Grotius there is no objective value, and everyone is the interpreter of his own interests, values, and preferences."  Thus the Grotian appeals to "right" and "natural law" really endorse a process of debate, and recognition of institutions for arbitration and reconciliation of views, so as to construct norms for governing conduct. 
I agree with this view to the extent that Grotius is not a Kantian in search of a priori truths known purely by reason, without the corruptions of experience or consequences.  That said, is a postmodern constructivism Grotius's only alternative to this?  If I were to invoke moderation here, I fear my partners in this dialogue will roll their eyes.  Nonetheless I aver that Grotius held to a philosophical middle position between conventionalism (the opponent he confronts in opening the work) and philosophical absolutism, or a priorism.  He does so as a jurist and theologian who was liberally educated in the Roman civil law as modified by Christian philosophy and jurisprudence.  Central to that complex tradition is the balance between fixed but general principles of natural right on the one hand and, on the other, the individual's judgment in discerning how to adhere to right in particular or changing circumstances.  Grotius invokes these conceptions of prudence and judgment early in the work, and relies upon them throughout. 
For example, Grotius states that man is endowed by nature with "judgment" and must exercise "a right and sound judgment" in discerning what natural right requires; this in turn will guide a "prudent management" in exercising distributive justice with all its discriminations among competing elements (PD IX-X, 87-88).   In discussing punishments – which are both a domestic matter and provide a rationale for war against offenders – he insists that the virtue of prudence is needed for both civil and international cases of wrong to discern whether and what punishment is due (II.20.IV, 972-75; see also II.20.XLIII, 1026-27).  Aristotle thus was correct to declare prudence as "a virtue peculiar to" rulers (II.26.IV, 1179).
I agree, therefore, that Grotius celebrates the jurist and statesman as arbiter, the embodiment of the distinction between peace and war.  The capacity to reconcile disputes through mechanisms of law is indeed "the social function of rendering justice" (Blom) that we tend to take for granted, perhaps especially when we disagree with a particular verdict.  Several early essays of The Federalist echo this Grotian view, applied to domestic and international contexts.  The lack of courts or executive offices under the Articles of Confederation meant that disputes among states – or, failure of the Confederation to abide by international law for lack of offices to enforce it – exposed Americans to the dilemma of either permitting injustice or having recourse to violence.  In no. 22, Publius (Hamilton) argues that the lack of such capacity is effectively a state of war (see also no. 3, no. 15, and no. 17 – by Jay and Hamilton).
The sticking point is that Grotius employs prudence, and institutions of domestic law and international convention, to mediate between high principle and concrete circumstances – but prudence is guided by the fixed truths discerned by right reason.  In international affairs there are several institutions that statesmen, jurists, and educators use to close the gap between natural law and the practice of the law of nations, seeking to raise the latter toward the former.  These include courts with jurisdiction under the law of nations, and jurists such as Grotius who educate statesmen and jurists about the laws of nature and nations.  There is much "process" here, but I don't see Grotius elevating process and consensus over the search for immutable truths that rest upon nature.
Liberty for individuals and states depends upon these immutable truths; and, the genius of constitutional regimes is to incorporate a Socratic openness to hear opposing views about what truth is and what it entails in particular circumstances. The defense of principles of liberty requires confidence that these are not just a product of contemporary construction, but are grounded in our nature. This is most especially true because we, or our fellow citizens, might be called upon to kill or be killed to defend these truths. The search for a Rawlsian "global public reason" may be one pillar upon which the Peace Palace in The Hague rests; but among the other pillars is the forcefulness of liberal states, leaders, and citizens to stand for these principles against actors who ignore or repudiate them. Grotius seeks to reduce war, but he also teaches that there come moments when the process of arbitration or deliberation can do no further good and actors must be confident that right reason and law endorse their actions to defend justice.
ADDITIONAL READING
Online Resources↩
Hugo Grotius (1583-1645) - works by Grotius availbale online at the OLL: </people/3775>
Hugo Grotius, The Rights of War and Peace, edited and with an Introduction by Richard Tuck, from the Edition by Jean Barbeyrac (Indianapolis: Liberty Fund, 2005). 3 vols. </titles/1877>.
Grotius, "THE PRELIMINARY DISCOURSE Concerning the Certainty of Right in general; and the Design of this Work in particular".
Hugo Grotius, Commentary on the Law of Prize and Booty, ed. and with an Introduction by Martine Julia van Ittersum (Indianapolis: Liberty Fund, 2006). </titles/1718>.
Collection: Natural Law and Enlightenment Series </groups/59>.
Works Mentioned in the Discussion↩
De Araujo, Marcelo. "Hugo Grotius, Contractualism, and the Concept of Private Property: An Institutionalist Interpretation," History of Philosophy Quarterly, vol. 26 (2009): 353.
Hans W. Blom, "The Meaning of Trust: Fides between self-interest and appetitus societatis," in The Roots of International Law / Les fondements du droit international: Liber Amicorum Peter Haggenmacher, Studies in the History of International Law 11/5, ed. by Vincent Chetail. Leiden: Brill, 2013, pp. 39-58.
John Cairns and Gustaaf van Nifterik in Grotiana vol. 22/23, 2001-2002, pp. 197-244.
Stephen Darwall, "Grotius at the Creation of Modern Moral Philosophy," Archiv für Geschichte der Philosophie 94 (2012), pp. 296–325.
Dobos, Ned. Insurrection and Intervention: The Two Faces of Sovereignty (Cambridge University Press, 2012).
Forde, Steven. "Hugo Grotius on Ethics and War." 1998. American Political Science Review, vol. 92: 639-48.
Friedrich A. Hayek, Law, Legislation, and Liberty: A New Statement of the Liberal Principles of Justice and Political Economy, vol. 2 The Mirage of Social Justice (University of Chicago Press, 1976).
Holzgrefe, J. L. "The Humanitarian Intervention Debate," in Holzgrefe and Robert O. Keohane ed., Humanitarian Intervention: Ethical, Legal, and Political Dilemmas (Cambridge University Press, 2003): 15.
Kant, Immanuel. The Metaphysics of Morals, Mary Gregor, ed. (Cambridge University Press, 1996). An older translation of this work is available in the OLL: Immanuel Kant, The Metaphysics of Ethics by Immanuel Kant, trans. J.W. Semple, ed. with Iintroduction by Rev. Henry Calderwood (Edinburgh: T. & T. Clark, 1886) (3rd edition). </titles/1443>.
Luban, David. "War as Punishment," Philosophy and Public Affairs, vol. 39 (2012): 299.
John S. Dryzek, "The Deliberative Democrat's Idea of Justice," European Journal of Political Theory, 12/4 (2013), pp. 329-46.
MacDonnell. "Paper Read before the Grotius Society," Transactions of the Grotius Society, vol. 5 (1919): xvii-xxiii.
Eric Mack, An Introduction to the Political Thought of John Locke
Eric Mack, Locke on Toleration: Locke's A Letter Concerning Toleration
Eric Mack: Authority and Liberty in the Writings of Robert Filmer and Thomas Hobbes [old OLL]
Eric Mack: James Tyrrell on Authority and Liberty
Eric Mack: Liberty Matters:"John Locke on Property" (January 2013).
Montesquieu, Charles de.  My Thoughts.  1720-1755. Ed and tr. Henry Clark.  Liberty Fund, 2012. 
_____.  The Spirit of the Laws. 1748. Ed. and tr. Cohler, Miller, and Stone (Cambridge University Press, 1989).
Rabkin, Jeremy. "Grotius Vattel, and Locke: An Older View of Liberalism and Nationality," Review of Politics, vol. 59 (1997): 293.
Rabkin, Jeremy. "Grotius Vattel, and Locke: An Older View of Liberalism and Nationality," Review of Politics, vol. 59 (1997): 293.
John Rawls, The Law of Peoples (Cambridge, Mass.: Harvard University Press, 1999).
Mathias Risse, On Global Justice (Princeton: Princeton University Press, 2012).
Salter, John. "Hugo Grotius: Property and Consent," Political Theory, vol. 29 (2001): 537.
Amartya Sen, The idea of Justice, London: Allen Lane, 2009.
Benjamin Straumann, "Oikeiosis and appetitus societatis: Hugo Grotius' Ciceronian argument for natural law and just war," Grotiana (New Series) vol. 24/25 (2003/2004) pp. 41–66.
Benjamin Straumann, "Is Modern Liberty Ancient? Roman Remedies and Natural Rights in Hugo Grotius's Early Works on Natural Law," Law and History Review 27 (2009), 55-85.
Fernando R. Tesón, Humanitarian Intervention: An Inquiry into Law and Morality (3rd ed. fully revised and updated, Transnational Publishers 2005).
Fernando R. Tesón, Rational Choice and Democratic Deliberation (Cambridge University Press 2006; with Guido Pincione).
Fernando R. Tesón, A Philosophy of International Law (Westview Press 1998).
Tuck, Richard.  1999. The Rights of War and Peace: Political Thought and the International Order from Grotius to Kant (Oxford University Press).
Zuckert, Michael. 1994.  "The Master of Whig Political Philosophy." In Natural Rights and the New Republicanism.  Princeton University Press.  119-149.
Grotius, "The Preliminary Discourse Concerning the Certainty of Right in general"↩
Source
Hugo Grotius, The Rights of War and Peace, edited and with an Introduction by Richard Tuck, from the Edition by Jean Barbeyrac (Indianapolis: Liberty Fund, 2005). 3 vols.
The "Prolegomena" or "Preliminary Discourse" comes from Vol. 1 </titles/1425#lf1032-01_head_009>.
THE PRELIMINARY DISCOURSE : Concerning the Certainty of Right in general; and the Design of this Work in particular.↩
Endnotes
Selected Chapters from The Rights of War and Peace (1625)↩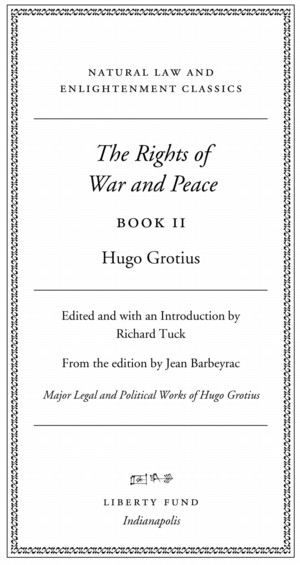 Source
Hugo Grotius, The Rights of War and Peace, edited and with an Introduction by Richard Tuck, from the Edition by Jean Barbeyrac (Indianapolis: Liberty Fund, 2005). 3 vols. </titles/1877>.
The Selected Chapters
Book I
CHAPTER I: What War is, and what Right is.
CHAPTER II: Whether 'tis ever Lawful to make War.

Book II
CHAPTER I: Of the Causes of War; and first, of the Defence of Persons and Goods.
CHAPTER XXII: Of the unjust Causes of War.
CHAPTER XXIII: Of the dubious Causes of War.
CHAPTER XXIV: Exhortations not to engage in a War rashly, tho' for just Reasons.

Book III
CHAPTER X: Advice concerning Things done in an unjust War.
CHAPTER XI: Moderation concerning the Right of killing Men in a just War.
CHAPTER XII: Concerning Moderation in regard to the spoiling the Country of our Enemies, and such other Things.
CHAPTER XXV: The Conclusion, with Admonitions to preserve Faith and seek Peace.
The full contents of the 3 volume set:
Vol. 1. </titles/1425>
THE LIFE OF HUGO GROTIUS
H. GROTIUS to His Most Christian Majesty LEWIS XIII. King of France and Navarre.
THE PRELIMINARY DISCOURSE Concerning the Certainty of Right in general; and the Design of this Work in particular.
Book I

CHAPTER I: What War is, and what Right is.
CHAPTER II: Whether 'tis ever Lawful to make War.
CHAPTER III: The Division of War into Publick and Private. An Explication of the supreme Power.
CHAPTER IV: Of a War made by Subjects against their Superiors.
CHAPTER V: Who may lawfully make War.

Vol. 2. Book II. </titles/1947>
Book II
CHAPTER I: Of the Causes of War; and first, of the Defence of Persons and Goods.
CHAPTER II: Of Things which belong in common to all Men.
CHAPTER III: Of the original Acquisition of Things; where also is treated of the Sea and Rivers.
CHAPTER IV: Of a Thing presumed to be quitted, and of the Right of Possession that follows; and how such a Possession differs from Usucaption and Prescription.
CHAPTER V: Of the Original Acquisition of a Right over Persons; where also is treated of the Right of Parents: Of Marriages: Of Societies: Of the Right over Subjects: Over Slaves.
CHAPTER VI: Of an Acquisition (Possession or Purchase) derived from a Man's own Deed; where also of the Alienation of a Government, and of the Things and Revenues that belong to that Government.
CHAPTER VII: Of an Acquisition derived to one by Vertue of some Law; where also of succeeding to the Effects and Estate of a Man who dies without a Will.
CHAPTER VIII: Of Such Properties as are commonly called Acquisitions by the Right of Nations.
CHAPTER IX: When Jurisdiction and Property Cease.
CHAPTER X: Of the Obligation that arises from Property.
CHAPTER XI: Of Promises.
CHAPTER XII: Of Contracts.
CHAPTER XIII: Of an Oath.
CHAPTER XIV: Of the Promises, Contracts, and Oaths of those who have the Sovereign Power.
CHAPTER XV: Of publick Treaties, as well those that are made by the Sovereign himself, as those that are concluded without his Order.
CHAPTER XVI: Of Interpretation, or the Way of explaining the Sense of a Promise or Convention.
CHAPTER XVII: Of the Damage done by an Injury, and of the Obligation thence arising.
CHAPTER XVIII: Of the Rights of Embassies.
CHAPTER XIX: Of the Right of Burial.
CHAPTER XX: Of Punishments.
CHAPTER XXI: Of the Communication of Punishments.
CHAPTER XXII: Of the unjust Causes of War.
CHAPTER XXIII: Of the dubious Causes of War.
CHAPTER XXIV: Exhortations not to engage in a War rashly, tho' for just Reasons.
CHAPTER XXV: Of the Causes for which War is to be undertaken on the Account of others.
CHAPTER XXVI: Of the Reasons that justify those who under another's Command engage in War.
Vol. 3. </titles/1427>
Book III
CHAPTER I: Certain General Rules, shewing what, by the Law of Nature, is allowable in War; where also the Author treats of Deceit and Lying.
CHAPTER II: How Subjects Goods, by the Law of Nations, are obliged for their Prince's Debts: And of Reprisals.
CHAPTER III: Of a just or solemn War, according to the Right of Nations, and of its Denunciation.
CHAPTER IV: The Right of killing Enemies in a solemn War; and of other Hostilities committed against the Person of the Enemy.
CHAPTER V: Of Spoil and Rapine in War.
CHAPTER VI: Of the Right to the Things taken in War.
CHAPTER VII: Of the Right over Prisoners.
CHAPTER VIII: Of Empire over the Conquered.
CHAPTER IX: Of the Right of Postliminy.
CHAPTER X: Advice concerning Things done in an unjust War.
CHAPTER XI: Moderation concerning the Right of killing Men in a just War.
CHAPTER XII: Concerning Moderation in regard to the spoiling the Country of our Enemies, and such other Things.
CHAPTER XIII: Moderation about Things taken in War.
CHAPTER XIV: Of Moderation concerning Captives.
CHAPTER XV: Moderation in obtaining Empire.
CHAPTER XVI: Moderation concerning those Things which, by the Law of Nations, have not the Benefit of Postliminy.
CHAPTER XVII: Of Neuters in War.
CHAPTER XVIII: Concerning Things privately done in a publick War.
CHAPTER XIX: Concerning Faith between Enemies.
CHAPTER XX: Concerning the publick Faith whereby War is finished; of Treaties of Peace, Lots, set Combats, Arbitrations, Surrenders, Hostages, and Pledges.
CHAPTER XXI: Of Faith during War, of Truces, of Safe-Conduct, and the Redemption of Prisoners.
CHAPTER XXII: Concerning the Faith of inferior Powers in War.
CHAPTER XXIII: Of Faith given by private Men in War.
CHAPTER XXIV: Of Faith tacitly given.
CHAPTER XXV: The Conclusion, with Admonitions to preserve Faith and seek Peace.
PASSAGES OF SCRIPTURE, Illustrated, examined, or corrected in this Treatise.
INDEX I: Of the AUTHORS whose Works are explained, censured, defended, or remarked upon, either in the Text or in the Notes.